The Citizens Bank Pops by the Sea concert is Cape Cod's single largest one-day cultural event and the most important fundraising event of the year for the Arts Foundation of Cape Cod. For each of the past thirty years we have welcomed one of the nation's finest and best-loved musical ensembles – the Boston Pops Esplanade Orchestra – to the Hyannis Village Green. Maestro Keith Lockhart will lead the Pops, joined by a Celebrity Guest Conductor and a Special Guest Performer.
This year's Celebrity Guest Conductor will be none other than Blue Man Group! Blue Man Group first came together in 1991 and since then has become a global phenomenon. We are extremely excited to welcome this world famous percussion group to the concert this year!
Our Special Guest Performers for this year's concert will be Tony Award Nominee Laura Benanti (She Loves Me, Supergirl, Nashville) and singer/songwriter James "D-Train" Williams, whose hit singles include "You're the One For Me," "Keep On," and "Walk on By."
This fundraising concert, benefitting the Arts Foundation of Cape Cod's year-round mission of supporting, celebrating and promoting the Arts & Culture of Barnstable County, regularly sells out to create the Cape's largest single audience. Residents and visitors from throughout the United States and abroad gather for the afternoon's entertainment. Together they sit on the lawn, in festival seating or at exquisite VIP tables to enjoy this magical storied event, knowing that their patronage has a lasting impact on Cape Cod's creative economy.
The Arts Foundation of Cape Cod provides artistic, cultural, and educational programs as the official arts agency of Barnstable County. Programs supported by your patronage include our annual Winter Art Exhibit, cultural grants issued in the Fall, the collaborative events and artisans marketing website ArtsCapeCod.org, our scholarships program for local students, and professional artist fellowships.
---
Pops by the Sea is proudly produced by the Arts Foundation of Cape Cod thanks to generous sponsorship by Citizens Bank.
---
Ticket Types
• Lawn seating attracts a mix of families, music lovers, residents and visitors who set up blankets and chairs together to enjoy a casual and relaxing classic Cape Cod summer experience.
• Festival seats have a wonderful view of the stage and the Boston Pops Esplanade Orchestra. Note that these seats are not numbered or assigned. Festival Seats are located immediately behind the VIP tables.
• Discounted Festival seats are available for groups of 20 or more. Please call (508) 362-0066 for details.
• CapeFLYER will be operating for the concert. Round trip tickets are available for a discounted rate of $25. You may then purchase the concert tickets you desire.
• Individual Table Seats are available for those seeking a comfortable, relaxed atmosphere closer to the stage. Table buyers receive snacks and non-alcoholic beverages.
• Business Sponsorship Tables, VIP Tables for 10 and VIP Table Seats are available for those seeking an elegant, relaxed atmosphere among the VIP attendees. Table buyers receive snacks and non-alcoholic beverages provided at their table, along with recognition on the VIP Table Buyers Page in the Pops by the Sea Program Book. Pricing for tables of 10 and VIP individual table seat prices are based on their proximity to the stage.
Please contact Wendy O'Keefe, Director of Development at 508-362-0066 ext. 112 or send an email to wokeefe@artsfoundation.org for more information on Business Sponsorship and VIP Seating.
---
Opening Acts

Gates for the event open at 1:00 p.m. and our opening acts begin on the side stage at 1:15. As blankets are set and picnic baskets are unloaded across the Hyannis Village Green, patrons enjoy music from local Cape Cod groups of all genres including Bluegrass, Funk, Folk, Blues, Rock and more.

For a full list of opening acts, please see below:

Master of Ceremonies DJ Sinnetti
Ian has played out professionally more than 1500 gigs in his career so far. These include many of the biggest venues across the world in locations such as Thailand and the United Kingdom. Recently, Ian performed for Love Live Local at Love Local Fest, a Cape Cod community event showcasing small independent businesses, local food prodcuers and musicians.

Cape Cod African Dance and Drum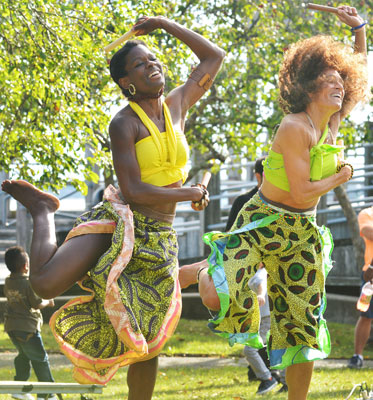 Cape Cod African Dance and Drum is a beloved and well-known ensemble throughout the Cape, sharing the healing and upliftment of West African music and dance, as well as education about African culture and the diaspora.

Cla Da Bossa Nova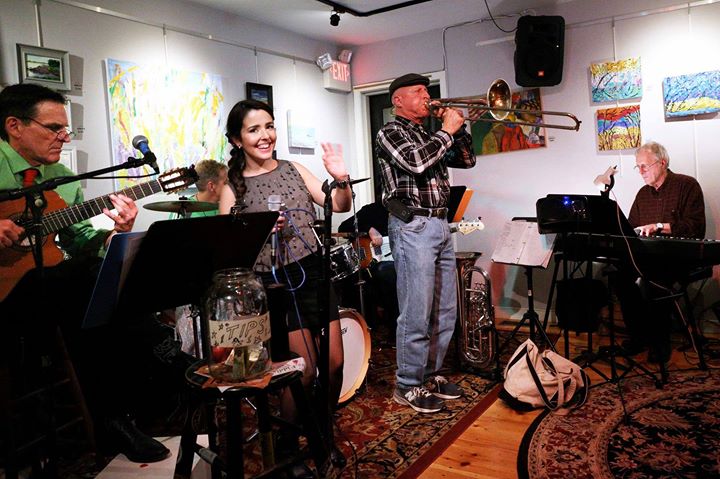 The band Cla Da Bossa Nova has been a dream of Tad Price who founded the band in 2014, featuring Brazilian singer, Rayssa Ribeiro with Tad on nylon string guitar, Michael Dunford on percussion and Susan Goldberg on bass and various horn players. They are a local band from Cape Cod who perform a mixture of modern bossa nova and samba music.

Michael Gabriel
Originally from Trinidad, Michael Gabriel has been playing reggae and calypso on the steel drums since the age of 8. Now a resident of Cape Cod, Michael now splits his time teaching and performing.

AFCC Fellowship Awardee Alex Becrelis
Alex Becrelis, this year's AFCC Performing Arts Fellowship winner, has had a lifelong obsession with mandolin. He is a founding member of the pop/folk group Tripping Lily, where he composed and performed original music for over a decade. After taking a brief hiatus from performing, his mission is to make the mandolin a more accessible instrument.
---
Concert Information

The Arts Foundation of Cape Cod is committed to enhancing safety and creating a more enjoyable experience for everyone. As a result, all items brought to the venue are subject to search. For a partial list of prohibited items, please reference the graphic below:
The Arts Foundation of Cape Cod reserves the right to prohibit any items as deemed necessary. For more information, please contact the Arts Foundation of Cape Cod at (508) 362-0066.
---
Parking Information

While the AFCC has no specific sanctioned parking for general admissions, there are plenty of places to park in the downtown Hyannis area. For a partial list of places to park, please see the map below:
---
Seating Map