The selected performance is NOT available for sale.
Please Select Tickets
You have selected: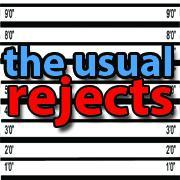 YOU'LL FLOAT TOO! : IT
The Usual Rejects
FAN EVENT
Wednesday, October 21, 2015
at
7:00PM
Chain Theatre
312 W. 36th St
4th Floor
(Between 8th and 9th Ave)
BY SUBWAY: A/C/E, 1/2/3 to 34th Street Penn Station - N/R/Q/W and 7 to 42nd Street Times Square - B/D/F/M to 34th Street Herald Square
A long time ago in a galaxy far, far away…George Lucas revealed to the world one of the best films of all time - and now the time has come for the Usual Rejects to make fun of it. After sold out parody performances of the BIG LEBOWSKI, GHOSTBUSTERS and ROADHOUSE: come join us for I'VE GOT A BAD FEELING ABOUT THIS: Star Wars A New Hope! So hop in that old bucket of bolts, the Millennium Falcon, stop staring at that binary sunset with a glass of blue milk in hand, and kiss your brother claiming it's 'for luck,' its time to save the galaxy. May the Force be with you! A Fan event for the ages as 6 actors take on every role. Trivia! Raffle Prizes! Audience Participation! And sign up for our silent auction for a chance to play God and deal out beers to the cast! 21+ event. $15 ADVANCE ONLINE and $20 at the door 2 FREE DRINKS WITH ADMISSION! 6 Actors. Every Role. Lives saved. Dreams fulfilled. Game on. ($15 online and $20 at the door)
This is Heavy...Celebrate Back to the Future's 30th anniversary and the year Marty travels to the future with your favorite Usual Rejects! Its time for GREAT SCOTT: Back to the Future 2! Join us for two performances; October 21st and 24th! Doors open at 7pm and a $15 ticket buys you two free drinks and a raffle to win cool prizes! So hop in your flying DeLorean, avoid the jammed skyways and accelerate up to 88mph!!! Lets commiserate together that we don't have flying cars, Mattel hover boards, thumb print door knobs, and of course Jaws 19. Now we can do this the easy way or the hard way - the easy way would be to reserve your tickets now! Ooh La la!