The selected performance is NOT available for sale.
Please Select Tickets
You have selected: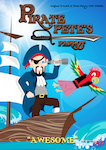 The Secret Children's Theatre presents:
Pirate Pete's Parrot
Saturday, September 23, 2017
at
2:30PM
The Secret Theatre
44-02 23rd Street (between 44th Road and 44th Avenue)
(through green mesh gate then toward large windows)
Click
HERE
for a map to Secret Theatre
Please click
HERE
for train service changes.
E, M to Court Sq/ 23rd; G, 7 to Court Sq; N, Q to Queensboro Plaza
Exit 15 on LIE (west)
PLEASE CHECK IN AT BOX OFFICE BEFORE ENTERING HOUSE!
AHOY, THEATRE-GOERS!!
Climb on board and get ready for adventure at The Secret Theatre's new children's musical, "Pirate Pete's Parrot." Pirate Pete's Parrot promises music, mischief, and a boatload of laughs for both children and adults.
The play revolves around Pirate Pete, a lovable rogue on a mission to find his beloved runaway parrot, Polly (who prefers pancakes to boring old birdseed). Armed with an endearing crew of misfits, Pete embarks on a journey complete with songs, sword fights, and plenty of audience interaction. Says writer and star Richard Mazda, "The show is so much fun to do. One of my favorite things is seeing the parents enjoy it as much as the kids." Indeed, children and adults will find a lot to love in this quirky production!
PREVIEW THE FUN HERE!!!
Watch a clip of the Pirate Pete's high-seas hyjinks by clicking right
HERE
(video by: Steven Speliotis & Reiko Yanagi)..... And don't forget to visit Pete on
FACEBOOK
!!
ALSO!! Purchase the DVD for Pirate Pete's Parrot by clicking
HERE
ABOUT THE SECRET THEATRE--BIG
Entrance past gate at rear of parking lot.
Wheelchair accessible.
3 bathrooms inside.
Concessions available.
A/C available.
!DOCTYPE HTML PUBLIC '-//W3C//DTD HTML 5.0 Transitional//EN'>