The selected performance is NOT available for sale.
Please Select Tickets
You have selected: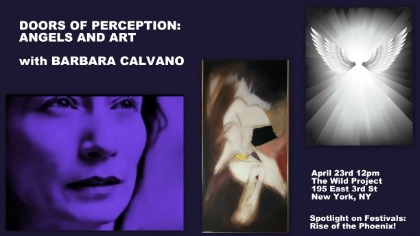 Spotlight On Festivals Presents
Doors of Perception: Angels and Art
in the Rise of the Phoenix Festival
Sunday, April 23, 2017
at
12:00PM
The Wild Project
195 E 3rd St
East 3rd Street Between Avenues A & B
Closest Train: F (2nd Avenue Stop)
Doors of Perception: Angels and Art
with Barbara Calvano
60 minutes

"If the doors of perception were cleansed everything would appear to man as it is infinite." – William Blake

In this talk artist, angel intuitive and actor Barbara Calvano will share about how following your intuition you can create doors of opportunity for learning and growth. Finding refuge in making art she developed her psychic abilities and saved her life. She will share about how her series of paintings called 'Tandra', a peaceful meditative state, came about from channeled messages.

From living in Tokyo during the Vietnam War, moving to New York City in 1977, the summer of Sam after college, Barbara chronicles her life as an artist surviving through desperate times of alcoholism, homelessness and abusive relationships finding salvation in creativity and making art. Doors were opened again and again always guided by her intuition and angels. Join her for a rich exploration into a life of transformation that can happen when you open your heat to art and listening to your angels.

She will be giving some angel reading to audience members.

Fee includes one card reading or payment towards a 15 minute reading ($44) Time and date TBD.