The selected performance is NOT available for sale.
Please Select Tickets
You have selected: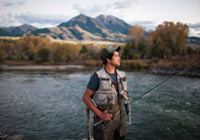 Centerpiece Film
Charged: The Eduardo Garcia Story
Documentary Feature
Saturday, June 3, 2017
at
6:30PM
Bow Tie Cinemas- Theater 1
2 Railroad Ave
Director:
Phillip Baribeau
Producer:
Dennis Aig
Executive Producers:
Peter Hochfelder, Scott Ballew, Teri Weinberg, Doug Ellin, Constance Schwartz-Morini, Michael Strahan
Country:
USA
Language:
English, Spanish
Run Time:
86 mins
CHARGED: THE EDUARDO GARCIA STORY follows the life of celebrity chef, Eduardo Garcia whose body was jolted with 2400 volts of electricity in a bizarre backcountry accident in Montana. When his career as a highly respected chef and outdoorsman comes to a sudden halt as he fights for his life, he has to undergo 21 surgeries to get back on his feet. Halfway through his recovery, the doctors inform him that he is also suffering from testicular cancer and will have to undergo intensive chemotherapy. Physical survival is followed by emotional upheaval as he is forced to deal with his now changed relationships with his family and everyone else close to him. Most challenging is his relationship with his former girlfriend, whom he betrayed and whom, for reasons she does not even understand, becomes his primary caregiver. CHARGED is a survivor story about the resilience of a man, his family, and his closest, most complex friendships. Above all, it is a story about finding one's best self in order to live a full life- one that is truly- CHARGED.
*Q&A with Eduardo Garcia, Jennifer Jane, Philip Baribeau (Director), Dennis Aig (Producer), Teri Weinberg (Executive Producer), and Doug Ellin (Executive Producer) following the screening. Moderated by Mark Lindsay.
Second screening of CHARGED: THE EDUARDO GARCIA STORY will be held at Bow Tie Cinemas- Theater 3 on Sunday, June 4th at 12:00 PM. Buy tickets HERE for the second screening.