The selected performance is NOT available for sale.
Please Select Tickets
You have selected: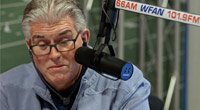 Producing Sports: ESPN Films 30 for 30's MIKE AND THE MAD DOG Screening & Panel
Sunday, June 4, 2017
at
3:00PM
Greenwich Library - Cole Auditorium
101 West Putnam Ave
ESPN Films 30 for 30's MIKE AND THE MAD DOG
Mantle and Maris. Clyde and The Pearl. Manning to Burress. Messier and Leetch. Over the years, New York sports fans have witnessed many legendary combinations. But there is another tandem of talents

Their names are Mike Francesa and Chris Russo, and their "Mike and the Mad Dog" show ruled afternoon sports talk from the studios of WFAN 660 for 19 years—not bad considering they didn't think they'd last 19 days together. Even though they both brought Long Island accents and encyclopedic sports knowledge to the microphone, they were distinctly different personalities who often clashed on and off the air. But when all was said and done, they changed sports radio forever.

In this rollicking yet revealing 30 for 30 documentary directed by Daniel H. Forer, the story of their success is told through in-depth interviews, archival tapes and a chorus of colleagues and fans—some of them quite famous. Framed by a 2016 lovefest known as FrancesaCon, the film captures the chemistry that made "Mike and the Mad Dog" so compelling—never more so than on their final show together in 2008, when Christopher's father, Tony, made a call to Mike.

Francesa and Russo both went on to success on their own. But for a generation of sports fans, there will never be another sports radio show as entertaining, as argument-inducing, as good as "Mike and The Mad Dog."
Director: Daniel H. Forer
Producers: Vincent D'Anton, Mario Diaz, John Fontanelli, Daniel H. Forer, Jason Heilig, Mark Noad, & Ted Shaker
Country: USA
Language: English
Run Time: 50 mins
PRODUCING SPORTS Panel
Whether it's a sportscaster narrating the action of a game— or a filmmaker focusing his documentary on a sports legend, many different people are responsible for merging the worlds of sports and entertainment. Life changing moments that have transformed the sports landscape have become the content for some of the most celebrated television and film productions. This year, ESPN Films 30 for 30's OJ: Made In America has even become the first sports documentary to air on television and win an Academy Award. Please join us for a screening of ESPN 30 for 30's new documentary MIKE AND THE MAD DOG—based on two of the greatest sportscasters in history— followed by a discussion of the bright future of sports entertainment with Chris Russo (Mike and the Mad Dog), Connor Schell (Co-creator and EP, ESPN's 30 for 30), Daniel H. Forer (Director), Hannah Storm (Award-winning Journalist, ESPN) and moderated by Ryen Russillo (Radio Host, ESPN).