The selected performance is NOT available for sale.
Please Select Tickets
You have selected: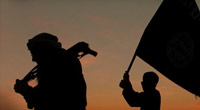 City of Ghosts
Sunday, June 4, 2017
at
6:00PM
Bow Tie Cinemas - Theater 2
2 Railroad Ave
VIEWER DISCRETION ADVISED
Director: Matthew Heineman
Producers: Juan Camilo Cruz, Matthew Hamachek, Matthew Heineman, Joedan Okun, & Maya Seidler
Country: USA
Language: Arabic
Run Time: 90mins
Directed, produced, and filmed by Academy Award–nominated, Emmy-winning filmmaker, and Connecticut native Matthew Heineman (Cartel Land, 2015 Sundance Film Festival Directing Award), CITY OF GHOSTS is a singularly powerful cinematic experience that is sure to shake audiences to their core as it elevates the canon of one of the most talented documentary filmmakers working today. Captivating in its immediacy, CITY OF GHOSTS follows the journey of "Raqqa is Being Slaughtered Silently"— a handful of anonymous activists who banded together after their homeland was taken over by ISIS in 2014. With astonishing, deeply personal access, this is the story of a brave group of citizen journalists as they face the realities of life undercover, on the run, and in exile, risking their lives to stand up against one of the greatest evils in the world today.
*Cast & crew in attendance for Q&A following screening.