The selected performance is NOT available for sale.
Please Select Tickets
You have selected: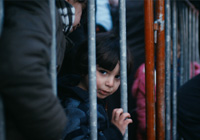 Documentary Shorts Program
Thursday, June 1, 2017
at
5:30PM
Bow Tie Cinemas - Theater 3
2 Railroad Ave
Films are listed in screening order.
CLOSE TIES
Director:
Zofia Kowalewska
Barbara and Zdzislaw are soon to celebrate their forty-fifth anniversary. It would have been quite the occasion if not for the fact that Zdzisław spent eight of those years living with another woman. Now he's back with his wife, although she claims that if it were not for her husband's infirm legs, he would still be chasing skirts around Cracow. In spite of everyday bickering, somewhat inexplicably, their relationship perserveres.
TEN METER TOWER

Directors: Axel Danielson & Maximilien Van Aertryck
A ten-meter diving tower. People who have never been up there before have to choose whether to jump or climb down. The situation itself highlights a dilemma: to weigh the instinctive fear of taking the step out against the humiliation of having to climb down. TEN METER TOWER is an entertaining study of human vulnerability.
FISH STORY

Director: Charlie Lyne
A search for the truth behind a fishy tale.
REFUGE

Director: Matthew K. Firpo
A small team of filmmakers, photographers, and storytellers travel to Greece to document human stories from the Refugee Crisis. This film explores the answers to the universal questions, 'Why did you leave your home?' and 'What do you hope to find where you're going?'.
DEER SQUAD

Directors: Pipus Larsen, Kenneth Gug, & Scott J. Ross
Kelvin Peña, a charismatic high schooler from rural Pennsylvania, went viral in 2016 after befriending a group of wild deer and posting his adventures with them on Snapchat and Instagram. In this short documentary, he discusses his life philosophy, describes his experience with sudden internet fame, and takes the filmmakers on a trip to meet his deer friends.
THE RABBIT HUNT

Director: Patrick Bresnan
In the Florida Everglades, rabbit hunting is considered a rite of passage for young men. THE RABBIT HUNT follows seventeen year old Chris and his family as they hunt in the fields of the largest industrial sugar farms in the US. The film records a tradition by which migrant farm workers in the communities surrounding Lake Okeechobee have been hunting and preparing rabbits since the early 1900s.
THE ILLUMINATION

Director: Tom Scott
In a remarkable twist of fate, it was the decades-long effort of one blind person, Gordon Gund, that made it possible for another, Yannick Duwé, to see. After more than 45 years, the journey of Gordon and Lulie Gund to find a cure for blindness can only be described as an act of love.
GIVING BIRTH IN AMERICA

Director: Clancy McCarty
Maternal health non-profit Every Mother Counts presents a new three-part, short documentary series, GIVING BIRTH IN AMERICA to examine some of the key reasons that the U.S. is falling so far behind in maternal healthcare. Each short film follows pregnant women and their healthcare providers in Florida, Montana and New York in the days leading up to delivery. Together, they navigate challenges of race, poverty, chronic illness, overuse of medical interventions and other inequalities that impact maternal health outcomes in America.
Second screening of the Documentary Shorts Program will be held at Bow Tie Cinemas - Theater 2 on Saturday, June 3rd at 10:45AM. Buy tickets HERE for the second screening.