The selected performance is NOT available for sale.
Please Select Tickets
You have selected: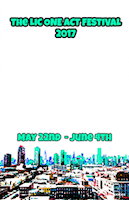 The Secret Theatre presents
The LIC One-Act Festival 2017
BE SURE TO SELECT CORRECT DATE/ TIME WHEN PURCHASING!
Sunday, May 28, 2017
at
2:30PM
The Secret Theatre
44-02 23rd Street
(between 44th Road and 44th Avenue)
Long Island City,
NY
11101
Click
HERE
for a map to Secret Theatre
Please click
HERE
for train service changes.
E, M to Court Sq/ 23rd; G, 7 to Court Sq; N, Q to Queensboro Plaza
Exit 15 on LIE (west)
Please check in at box office before entering house!
TICKETS
$15 for advanced sale
$18 at-door sale
$42 for ANY (3) programs:
~ PATRON MUST BRING PRINT-OUT RECEIPT TO EACH PROGRAM.
~ PASS IS NON-TRANSFERABLE BETWEEN PATRONS.
~ NOT APPLICABLE FOR FINALS ON JUNE 4TH.
Program A
5/24 (7:30PM)
5/27 (2:30PM)
5/28 (8PM)
5/30 (7:30PM)
6/2 (7:30PM)
6/3 (5PM)
The Fable of January and May
(12 min) (written, directed, composed by Larry Rinkel)
Cast: Harley Yeager (January); Sarah Spagnuolo (May); Jack Turell (Damian)
Freely adapted in verse from Chaucers Merchants Tale, this bawdy tale traces the love of old January for his beautiful young wife May, as complicated by her tryst with the handsome young Damian.
The What-If Cliff
(15 min) (written by Jonathon Ward)
Cast: Toni Salisbury (Anna); Daniel Lees (Zach)
Zach is on the cliff waiting to meet his girl on the night he's leaving home. Anna, his sister, comes instead to tell him theres more at stake than his fear of leaving - it's her fear of staying.
Eve's Dream
(17 min) (directed by Kevin Lavasseur; written by Leonard Goodisman)
Cast: Gina Doherty (Eve); Dulce Capadocia (Prayer Person); Sean Michael Beck (Adam)
Eve leaves the garden an innocent, not as traditionally; a Prayer-Person helps her interpret the world; Adam treats her poorly outside. She decides to go back, under new conditions she'll help set.
Phobias
(10 min) (written and directed by Michael Ricotta)
Cast: Rachel-Ann Giamborne (Karen); Ryan O'Connell-Peller (Gary)
Two patients at a psychiatrist office share their compatible phobias while waiting to be seen.
Paper Heart
(12 min) (written by Josh Drimmer
TWITTER
INSTAGRAM
; directed by Kathleen Swan)
Cast: Meghan Crosby (Molly); Megan Greener (Jenn)
Nervy, talkative Molly and the more hard-to-read Jen, two women in their early 30s, and a perfectly mismatched couple, are looking for their first apartment together, and may well have finally found it.
Getting Played
(15 min) (directed by Daniel Hicks; written by Judy Klass)
Cast: Marc Castle *(Bobby); Lauren Kapkanis (Autumn)
* AEA
Bobby, a music producer/promoter, talks to Autumn about her music submission. They have very different ideas about what damages the world of music, and what it means to get played.
Mike Pence's Greatest Wet Dream Ever!
(16 min) (written by Michael Perrie, Jr.; directed by Lacie Reily)
Cast: Jewells Blackwell (Vladimir Putin); Tom Gibbs (Mike Pence); Will Carson, Jr. (The Gay); Taylor LaBarbera (Woman)
Vice President Mike Pence is having a rough go of it, he's one of the most powerful men in the world, but also he can't sleep because everyone hates him. This is his nightmare.
Program B
5/25 (7:30PM)
5/27 (5PM)
5/28 (2:30PM)
5/31 (7:30PM)
6/3 (8PM)
6/4 (2:30)
First Grandparents on Mars
(15 min)(written by Boris Timanovsky; directed by Elizabeth Lord)
Cast: Amelia Fowler (Gloria); Tony White (Fred)
Fred and Gloria, a retired couple from Arizona, have volunteered to go on a one-way trip to Mars. Having arrived, they look for water, play dominoes, and check for voice messages from their son.
Meteorites
(20 min) (written by MD Tylicki; directed by Angelica Sumner)
Cast: John Merrill (Danny), Sibel Damar (Sibelle)
Two friends enjoy an evening on a rooftop of a New York City apartment complex while one of them is waiting for a long time friend to arrive in the form of a shooting star.
Out of Touch
(10 min)(written by Duvi Stahler; directed by Allen MacLeod)
Cast: Lindsay Fabes (Miriam); Alexandra Gonzalez (Abbie); Ben Schrager (Daniel)
A young modern orthodox Jew is engaged to the man of her dreams. After her best friend questions her fiances sexuality, a seed of doubt is planted in her head.
Warning Light
(12 min) (written by
ALISON LOWENSTEIN
; directed by Ilana Levine)
Cast: Melissa Zimmerman* (Mina); Josh David Phillips (Aaron); Tavia Gilbert* (Frankie)
*AEA
Mina, an adjunct women's studies professor, gets a lesson in gender stereotypes during a trip to the mechanic.
Bella Napoli
(15 min) (written by Steve Gold; directed by Justin Gallagher)
Cast: Chris Rand (Ernest Just); Shir Misan (Hedwig)
A comedy about an uptight African-American scientist who meets an Austrian woman at a 1930s Italian railroad station.
The Hundred Barrier
(10 min) (written and directed by Michael Ricotta)
Cast: Anna Just (Beatrice); Michael Ricotta (Lars)
Lars and Beatrice have been long time friends, but when Beatrice finally agrees to give romance a chance between them, Lars deny her in order to keep his commitment to a secret society he joined.
Program C
WARNING: Depictions of Sexual Assault Included
*
5/26 (7:30PM)
5/27 (8PM)
5/28 (5PM)
6/1 (7:30PM)
6/3 (2:30PM)
6/4 (5PM)
Ren Faire
(10 min) (written and directed by Michael Ricotta)
Cast: Einat Propper (Lady Mitzy); Inna Wiest (Female Customer); Nathan Marcus (Elizabethan Translator Customer); Oleksandr Matvyeyev (Russian Customer); Alexander Gheesling (Lord Andy); Andrew Burton (Sir Iggy); Joanna Halliday (Ella); Alicia Jade (Ebonic Customer)
The play is about a Renaissance Fair where a couple of participants get a little carried away playing their part in bringing back the spirit of ol' Medieval England.
We're Being Watched
(17 min) (written by Judy Klass; directed by Don Carter)
Cast: Victoria Miller (Janice); Christopher Finch (Cory)
Cory is annoyed that his fiancee Janice says they're being watched (though possibly she is somehow aware of the audience). As they bicker about this, more serious problems in their engagement surface.
*
Out of Body/ On a Train
(15 min) (written and directed by Erin Moughon)
Cast: Ryan Natalino; Bess Miller
Leah wakes up, hungover on the subway, except she's not really on the subway. As Holly, the only other person there, explains, Leah has been drugged and is being raped.
LOST SOCK LAUNDROMAT, ASTORIA, QUEENS
(12 min) (written by Ivan Faute; directed by Christina Ashby)
Cast: Melissa Mowry; Cerra Cardwell; Flavia Zaguini
Three women from different waves of American immigration build a kind of friendship built on common concerns and dreams.
Truck Stop Queen
(20 min) (written and directed by Juan Ramirez, Jr.)
Cast: Jason Westby (Michael); Cristy Reynoso (Darlene)
Michael is a desperate romantic who offers idealist Darlene a room at his apartment with no apparent strings. Who is to say that love doesnt come with a price?
How to Be Dead
(10 min) (written by Benjamin Weiner; directed by Keith Paul Medelis)
Cast: Jasper Newell (Declan); Eric Weiner (Andrew)
After an untimely death, a man must pass a class called How to Be Dead. He is surprised to find that his orphaned son is the teacher, and that the curriculum is harder than he could have imagined.
Frostbite
(10 min)(written by
NINA J. MANSFIELD;
directed byWalter Hoffman)
Cast: Joel Haberli (Carl); Kymberly Tuttle (Candy); Brendan Wahlers (Hank)
Candy and Carl are stranded in an Arctic Tundra, and are about to resort to cannibalism. Frostbite is a comedy about marriage, infidelity and eating human flesh.
FINALS
June 4th @ 8pm
=================================================================================
The LIC One-Act Festival is a competition style one-act play festival held at The Secret Theatre: Plays are voted on by the audience; the highest scoring shows progress into the Finals on June 4th @ 8pm and the winner is ultimately chosen by the final audience. There will be a BBQ and awards ceremony during the Finals.
Prizes will be offered in the following categories:
Best Play ($100)
Best Director ($50)
Best Actor ($50)
Best Actress ($50)
In addition to cash prizes, those plays in the Finals will be offered a chance to be non-exclusively published in The Secret Theatre's Anthology of Short Plays.
RULES for VOTING (VERY IMPORTANT!!!)

~YOU MUST RATE EACH PLAY FROM 1 - 10 IN THE PROGRAM YOU ARE ATTENDING. PLEASE RATE THEM IN ORDER OF PREFERENCE, 10 BEING MOST PREFERRED (all shows will get a different number). During Finals, you will have the option to vote for Best Actress, Actor, Director, and Play.

~INCOMPLETE BALLOTS will not be counted

~LATECOMERS will not receive a ballot

~IF YOU FILL IN YOUR BALLOT BEFORE THE END OF THE ENTIRE SHOW, your vote will not be counted
!DOCTYPE HTML PUBLIC '-//W3C//DTD HTML 5.0 Transitional//EN'>