Please Select Tickets
You have selected: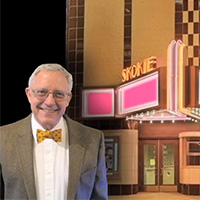 Charles Troy Presents
Pal Joey and the End of Rodgers and Hart
Wednesday, May 3, 2017
at
1:30PM
Skokie Theatre
7924 Lincoln Ave
After the zenith of Rodgers & Hart's collaboration in the late 1930s, Larry Hart's self-destructive nature finished the tandem in the early 1940s, But first he and Richard Rodgers created their most lasting show, Pal Joey (1940). We'll examine this landmark musical, and then follow the path of this brilliant partnership to its tragic conclusion.

Charles Troy, popular speaker and presenter, is an acclaimed musical theatre historian and graphic designer. He has created over 50 multi-media presentations and had presented his work to countless local and national audiences. His work has also been published in The Sondheim Review.