The selected performance is NOT available for sale.
Please Select Tickets
You have selected: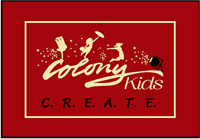 C.R.E.A.T.E.
Create. Really. Exciting. Art. Together. Every day.
Monday, June 19, 2017
at
8:30AM
The Colony Theatre
555 North Third Street
June 19-July 29 Mon-Fri 8:30am-1:30pm Daily
The FIRST of its kind, highly innovative, multimedia camp for youth. We are thrilled to announce this year's exciting summer camp! Our program will provide young people with a place to explore their creativity and develop a connection to the stage and camera, while being guided by caring industry professionals. It will be a fun and learning experience for kids 8-12. Colony Kids Stage and Screen Camp brings campers into the worlds of theatre AND film. Over the course of 6 weeks (Monday–Friday, 8:30 AM–1:30 PM), campers will experience what actually goes into staging a play and shooting a film in a safe and nurturing environment that empowers them to realize their personal and artistic potential. They will enjoy learning about playwriting, screenplay writing, acting, directing, production design, cinematography, editing, lighting, costumes, and sound. Campers will present the plays and films they have created over the course of the six weeks in their own Theatre and Film Festival.