The selected performance is NOT available for sale.
Please Select Tickets
You have selected: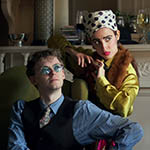 One Night Stand
ONS: Andréa Lloyd Webber: THE RAW FLAME
Monday, May 22, 2017
at
8:00PM
Ars Nova
511 West 54th Street
United States
------------------------------
Andréa Lloyd Webber: THE RAW FLAME
------------------------------
Co-created by
JEANNA PHILIPS
&
IAN AXNESS
Written by
JEANNA PHILIPS
Directed by
ANNIE TIPPE
-----------
ABOUT
-----------
WELCOME to Spring Fling Season at the most romantic couple's resort in the Poconos! Rest your feet after a long afternoon of sensual couple's kayaking, cash your chips after a round of kinky bingo, and meet us in the lounge for the magic and mania of semi-celebrated American mezzo soprano Andréa Lloyd Webber and her intrepid accompanist, Yon Yonson phD (unaccredited). The diva will croon the classics, shriek some Steely Dan, and ruminate on monogamy, polyphony, and champagne jacuzzi towers. Poco-no? Poco-YES!!
-----------
ABOUT THE ARTISTS
-----------
JEANNA PHILLIPS
is an actress + songstress. She has developed new work with The Civilians, The Foundry Theatre, Tectonic Theatre Project, Clubbed Thumb, New Saloon, Karen O and the Yeah Yeah Yeahs, Cynthia Hopkins, Dave Malloy and Elizabeth Swados, among others. Music: COWBOY BOB (Ars Nova, NYTW Adelphi Residency, upcoming at Yale Institute for New Music Theatre); what's this called this spirit? (Ars Nova, Dixon Place); Cooking to me is Poetry (with New Saloon at Galapagos Art Space); POE (The Morgan Library); Bacchanalia (Williamstown Theatre Festival Workshop). Andréa Lloyd Webber has wreaked havoc at La MaMa, Dixon Place, Littlefield and with The Dance Cartel at the ACE Hotel. Select performance: Circle Mirror Transformation (Actors Theatre of Louisville), Stop the Virgens (St Ann's Warehouse/Sydney Opera House), TROUBLEMAKER (Berkeley Rep), La MaMa Cantata (La MaMa ETC).
IAN AXNESS
is a collaborative music director and pianist based in New York City, working between forms of concert music and contemporary theater. He writes music for plays and secret dinners, devises semi-improvised variety shows and accompanies countless new music-theater projects. Ian has worked with organizations including the New York Philharmonic, New Dramatists, Yale Rep, York Theatre, 92nd Street Y, Juilliard, Brooklyn College, NYU Gallatin and New York City Opera. Selected credits: Beardo, Clown Bar (Pipeline Theatre); A Ride on the Irish Cream (Abrons), Pericles (Two River), Mermaiden (Spring Street Social Society), The Threepenny Opera (Atlantic), As You Like It (Public/Delacorte), Political Subversities (Ars Nova & The PIT). Faculty: Playwrights Horizons Theater School. BA: Oberlin College
ANNIE TIPPE
is a director and creator of new work. Directing includes Dave Malloy's Ghost Quartet (The Bushwick Starr, etc); Anne Washburn's When the Tanks Break (Drama League); Washeteria (Soho Rep); Aaron/Marie (w. Rachel Chavkin, Incoming! @ Under the Radar); Far Away (Harvard University); COWBOY BOB (Yale Institute for Music Theatre Summer Lab; Ars Nova); I Heard Sex Noises (Ars Nova) and Blue Plate Special (ANT Fest). Creator/Director of web series BASIC WITCH. Ars Nova's 2016 Director-in-Residence, Drama League Fall Directing Fellow, WTF Directing Corps, New Georges Audrey Resident. annietippe.com.
ANDRÉA LLOYD WEBBER
(no relation) is a chanteuse, actreuse, innovateuse and world-semi-celebrated mezzo soprano. Classically trained as a tenor in Rio, and an international clogging champion, Andréa has studied under the tutelage of masters across the globe before taking up her post with her collaborateur Yon Yonson as resident artístes of the bastion of creativity, sensuality and bingo that is Paradise Stream Couples Resort. For booking, private engagements or access to Andréa's full extended resumé, please inquire with her personal assistant Jeanna Philips.
YON YONSON
(PhD, unaccredited) exists in a wide straddle betwixt the academic and the artistic on this, his earth journey. He is honored to be píaníst in residénce and open swinger at Paradise Dream. The founder/dean/president/current professor emeritus of the Yonsonian Private Institute of Musical Portmantology, Yon also holds his approximately annual equinoctal ululation and crystal ceremony in Palmdale California every twelfth new moon. For information on registration and pricing please contact his apprentice and representative Ian Axness.
---------------------
THE DETAILS
---------------------
If you require accessible seating or have mobility disabilities, please note that our theater is fully accessible. After purchasing your ticket, we'd appreciate if you could drop our Chris Pritchard a line so that we can provide the best possible experience!