The selected performance is NOT available for sale.
Please Select Tickets
You have selected: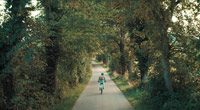 Narrative Shorts Program.
Sunday, June 4, 2017
at
2:30PM
Bow Tie Cinemas - Theater 3
2 Railroad Ave
Films are listed in screening order.
**VIEWER DISCRETION ADVISED**
BACKSTORY

Director: Joschka Laukeninks
Screenwriter: Joschka Laukeninks
As a young child, our protagonist is left by his mother and has to live with his violent father. He fights his way through adolescence and falls in love with the woman of his dreams and just as everything seems to be finally working out for him, a sudden event changes the course of his life forever. A story about how everything we love, everything we learn, everything we build, everything we fear, will one day be gone.
UNDERPRESSURE

Director: Lilli Schwabe
Screenwriter: Lilli Schwabe
Clara, a OBGYN, supports her patients decisions, whether they are bringing a child into the world or terminating a pregnancy. As a wife and loving mother to her two little children, the increasing pressure of daily life and her self-imposed belief system are beginning to falter. She finds that her duties at the clinic suddenly seem insurmountable and her family is slipping away.
LE GRAND BAIN

Director: Valérie Leroy
Screenwriter: Valérie Leroy
A recent divorcee moves into a new building and teaches its residents to swim, despite not having a swimming pool.
BOAT PEOPLE

Director: Paul Meschùh
Screenwriter: Paul Meschùh
On his journey from Somalia to Europe, shipwrecked Moussa is picked up by a wealthy couple on their luxurious catamaran.The athletic young man is the only survivor of a disaster in the Mediterranean Sea and asks Hannes and Gerlinde to smuggle him across the border. Questioning Moussa's true intentions, the yacht owners are torn between mistrust, fear and the urge for helping a fellow human being. A political drama of two separated worlds colliding within one global community.
BUTTERCUP

Director: Jason Neulander
Screenwriter: Jason Neulander
Sheila's new babysitter Emmie asks if there are any bedtime rituals she should know about. There are.
L`ÉCHAPPÉE

Directors: Jonathan Mason & Hamid Saidji
Screenwriters: Jonathan Mason & Hamid Saidji
A kaleidoscopic journey through the streets of Algiers in HOCINE FILALI's ramshackle taxi. With dreams of setting sail for a better life in Italy, Hocine will first have to escape the grip of this magical city and its colorful cast of characters.
GLASS HOUSE

Directors: Erik Ivar Sæther & Nicolai Berg Hansson
Screenwriters: Erik Ivar Sæther & Nicolai Berg Hansson
The past few months, Jens has realized that he isn't happy. Luckily, he has chosen the suitable time and place for spilling his guts... the family dinner. GLASS HOUSE is a black comedy that will make you choke on laughter and salty duck breast.
POOL

Director: Leandro Goddinho
Screenwriter: Leandro Goddinho
Claudia decides to investigate her grandmother's past, who recently passed away. Through a letter, she comes to Marlene, an old German lady who lives in Brazil and keeps her memories inside a pool without water. During the visit, the old lady reveals details of her life that intersect with Claudia's grandmother's past, a German fugitive of the 2nd World War.
The first screening of the Narrative Shorts Program will be held at Bow Tie Cinemas - Theater 3 on Friday, June 2nd at 6:30PM. Buy tickets HERE for the first screening.