Please Select Tickets
You have selected: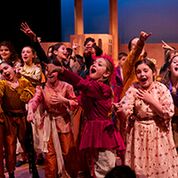 Grades 5 - 7
WPT2F17 - How to Succeed In Musical Theatre Without Really Trying
Acting, Music, Movement, Misc
Thursday, September 28, 2017
at
6:30PM
Mosesian Center for the Arts
321 Arsenal Street
This class meets Thursdays from 6:30 pm - 7:45 pm through November 16.

Student Showcase: Saturday, November 18, 11:00 am.
This class is part of WCT's Performer's Toolbox series where performers must hone their art alongside putting it into practice in productions. Classes in The Performer's Toolbox offer students a chance to further develop the necessary skills to create characters, convey a story, and act with confidence onstage.

Look out, Broadway! From scene to song, this class focuses on building the core performance skills of musical theatre. Students will develop techniques in acting, singing, and movement as they work on combining them in the performance of ensemble-based selections from musicals.