The selected performance is NOT available for sale.
Please Select Tickets
You have selected: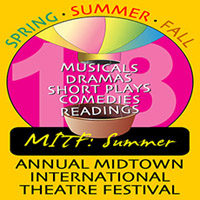 John Chatterton Presents MITF: Summer
SHORT PLAY LAB - Program A (July 2017) Jewel Box
Saturday, July 15, 2017
at
6:30PM
WorkShop Theater's Jewel Box Theater
312 West 36th Street
Fourth Floor
Jewel Box Theater at the WorkShop Theater
Subways & Busses: 1, 2, 3, 7, A, C, E, N, R, Q, W to 34th and/or 42nd Street Stations (Penn Station or Times Square)
Reminiscences by Laura Warfield. P-Murt by Marjorie Conn, directed by Shela Xoregos. A political existential play in which 2 people are questioning existence and searching for expression. Exhuming Oneself by Charles Funesilver, directed by Frank Thompson; starring Frank Thompson and Laurel Thompson. From his parking lot grave did King Richard IIIrd rise, much to our discontent- but not to worry, it was short-lived. Bella Napoli by Steve Gold. I don't know by James McLindon, directed by Ann Cooley. An old-school drill sergeant takes his new recruits for a cadence-singing run … straight into a brave new world of political correctness. Medusa by William K Hugel. A play about the inevitable rise of the Powerful Woman. Soul Mates by Suzann Capra, directed by Suzann Capra; starring Carole Boniece and Barbara Thomas. "Breaking News" . Proof discovered On how to find a Soul Mate. Who Knew This Dating Thing Was So Hard? by Josiah Mullins, directed by Josiah Mullins; starring Alex Harris, Josh Whisler, and Elizabeth Stuart. Have you ever had that moment where you wish you could share your relationship problems with someone? Tim and Patty have some talking to do. Leaving Home by Jon Kakalay, directed by Jon Kakaley. A young man leaves a strict Christian home to pursue his dreams of becoming an actor. Blackout by Lora Danley, directed by Lora Danley; starring Nick Daly and Zane Michael Powell. A city-wide power outage forces Jeremy and Tyler to confront the current state of their relationship.