The selected performance is NOT available for sale.
Please Select Tickets
You have selected: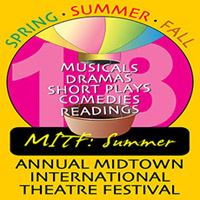 John Chatterton Presents MITF: Summer
SHORT PLAY LAB - Program A (July 2017) Main Stage
Saturday, July 15, 2017
at
7:00PM
WorkShop Theater's Main Stage Theater
312 West 36th Street
Fourth Floor
Main Stage Theater at the WorkShop Theater
Subways & Busses: 1, 2, 3, 7, A, C, E, N, R, Q, W to 34th and/or 42nd Street Stations (Penn Station or Times Square)
Speed Court by Janet Conroy-Quirk and Sean Kerr. Symptoms by John Ladd, directed by Dale Davidson; starring Dale Davidson. Dale Davidson. It used to be said that "...a little knowledge is a dangerous thing..." but in Symptoms, we will discover that "...a lot of knowledge can be a deadly thing..." Do You Understand What I'm Trying to Say by Howard Margulies, directed by David Leeper; starring Olivia Buckley and Howard Margulies. Jack and Belle vowed that their marriage would last until death did them part. One evening, Jack comes to realize that marriage vows aren't necessarily set in stone. Trumpettes Anonymous by Rex McGregor, directed by Alice Camarota. Five women have formed a support group for recovering Trump voters. At tonight's meeting one of them makes a surprise announcement. Joseph Receives Unsettling News by Rick Davis, directed by Rick Davis; starring Tom Colechin, Marian Thibodeau, and David Barney. Mary, Joseph, God (yikes). Savior In A Satchel by Marcus Soman. Between Us by Brandon Rashad Butts. A House of One's Own: Elizabeth Bishop in Key West by Malcolm Willison, directed by Traci Bargen; starring Megan Ghorashy. Elizabeth Bishop (a U.S. Poet Laureate awarded numerous prizes and awards) spent a number of years in her late twenties and early thirties in Key West, where she had a house she loved. But she suffered increasingly from asthma, failed love affairs, loneliness, depression, alcoholism, and writer's block. In ten minutes, find out how she get through all these to emerge as a preeminent American poet. Hitler's Mother by Burt Swartz, directed by Burt Swartz; starring Burt Swartz. How could anyone defend Hitler. We found someone. The Rise And Fall of Lucifer by Renee McNeil, directed by Renee McNeil. Before man, there was an angel and his name was called Lucifer. Blood by Yael Haskal, directed by Yael Haskal. Sometimes blood isn't thicker than water. A young woman with a rare blood type must make the ultimate donation decision: life or death for her abusive father.