Please Select Tickets
You have selected: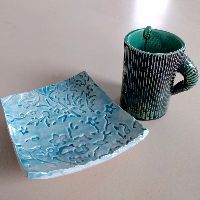 Adult
AC1ASU17 - Explorations in Clay
Ceramics, Misc.
Saturday, July 1, 2017
at
12:00PM
Mosesian Center for the Arts
321 Arsenal St.
This class meets 4 Saturdays from 12:00 -2:30 pm between Juny 1 and August 6.
Explore clay and color from a new perspective in this relaxing and enriching class. Through a series of evocative exercises, we will create work that expresses personal images, using line, color and form, working on soft clay, paper and bisque-fired pieces. You will learn basic hand-building techniques and take home work that reflects your unique vision. No experience is necessary. All clay and glazing materials are included; bring your favorite colored pencils, markers, crayons or pastels for quick sketches. Note: Experienced wheel-throwers are welcome to use the wheels in the studio.