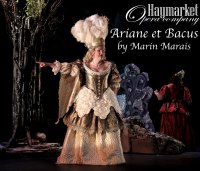 Haymarket Opera Company presents
Ariane et Bachus by Marin Marais (Studebaker)
Saturday, September 30, 2017
at
7:30PM
Studebaker Theater
in the Fine Arts Building
410 S. Michigan Ave.
All ages. Performance lasts 3 hours including one 15-minute intermission.
A perfectly balanced blend of glorious music, poetry, dance, and spectacle, based on a story of betrayal, revenge, and love. Haymarket Opera Company offers Chicago audiences the first chance ever to see this gem of a Marin Marais opera outside Paris, and the first chance for anyone, anywhere to see it since 1696!
Please note: the venue for this production has been changed. All performances will take place at the Studebaker Theatre, 410 S. Michigan Ave. The Athenaeum box office will continue to manage ticketing for Ariane et Bachus.
Studebaker Seating Chart with pricing
Studebaker Seating Chart
How would you like to select your seats?