Please Select Tickets
You have selected: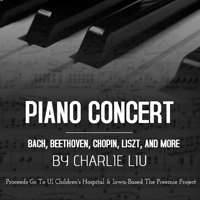 Charlie Liu Benefit Concert
Supporting the UI Children's Hospital and The Preemie Project
Sunday, August 27, 2017
at
2:00PM
The Coralville Center for the Performing Arts
1301 5th Street
Located in Plaza on 5th, at the corner of 5th St & 12th Ave
Charlie Liu, guest performer on the Ellen DeGeneres Show and Oprah Winfrey Show and one of the world's top junior pianists, will perform to raise funds for UI Children's Hospital and Iowa-based The Preemie Project. The repertoire will feature a wide selection of touching, exciting, and challenging classical pieces from Bach, Beethoven, Chopin, Liszt, Marcello, Schubert and Tchaikovsky.

Tickets:
Tier 1 VIP Seating: $50, includes a special meet-and-greet with the artist
Tier 2 Premium Seating: $35
Tier 3 Standard Seating: $25 for adults, $15 for students age 18 and under

Piano prodigy Charlie Liu first made his name on the Oprah Winfrey Show in the "World's Most Talented Kids" episode that also featured 19-year-old Taylor Swift, and the Ellen DeGeneres Show where he impressed Daughtry with his flying fingers. At age 8, he set a world record as the youngest musician ever to perform in all 3 concert halls inside the world-famous Carnegie Hall. The youngest ever Lang Lang International Music Foundation Scholar, he also won more Top Prizes in the most prestigious Inter/National Junior Piano Competitions in the USA than anyone else during 2015-16.

However, few know that Charlie Liu was born a preemie in Iowa and spent nearly a month in the Neonatal Intensive Care Unit in the UI Children's Hospital after birth. After overcoming early struggles, he was more than willing to give back to the community and help those in need. Not surprisingly, his first benefit solo recital at age 9 was raising funds for the UI Children's Hospital. 3 benefit solo recitals and $6000+ raised in NJ later, he is now aiming to present Iowans a world class piano recital while also helping out critical community service programs in Iowa: UI Children's Hospital and Iowa-based The Preemie Project. Please come listen to the moving music and contribute to the beautiful cause!

Tickets to this event are non-refundable.