The selected performance is NOT available for sale.
Please Select Tickets
You have selected: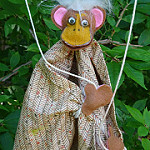 Family Workshop
Make a 3 String Marionette
Instructor: Sandglass Theater
Saturday, December 9, 2017
at
4:00PM
Puppet Showplace Theatre
32 Station Street
Recommended for ages 7+
Registration is only $15.00 for members! To get your discounts, login or become a member here!
Description:
Taught by puppeteer sisters Jana Zeller and Shoshana Bass, this workshop is targeted at families looking to explore the world of making puppets together. Participants will learn the basics of marionette construction and manipulation in a fun and exciting environment. Together, we'll discover everything you need to put on your own puppet show. A great holiday season activity, Marionettes also make fantastic gifts for friends and family!
Recommended for ages 7+
About the Instructor:
Sandglass Theater is an internationally known theater company specializing in combining puppets with music, actors and visual imagery. Since 1982, the company's productions have toured 24 countries, performing in theaters, festivals and cultural institutions and winning numerous international prizes. Sandglass Theater produces works for both adult audiences and young audiences—two repertoires that tour separately and together. Sandglass also performs and teaches in its own 60-seat renovated barn theater in Putney, Vermont. Sandglass Theater is available for workshops and residencies and teaches a 2-week intensive training program each summer. Learn more at sandglasstheater.org
Jana Zeller is a puppeteer and designer and is co-curator of the New Visions Series at Sandglass Theater. As the daughter of puppeteers, she started traveling with and working for the theater at a very young age. With Sandglass Theater, and with her own company Spybird Theater, she has created numerous original works and presented them across the US, in Canada, and in Mexico. Jana loves to collaborate with other puppeteers, dancers, and circus artists to create engaging theater for all ages. She lives with her husband and two sons in Vermont.
Shoshana Bass approaches her artistic life with a fierce belief in the power of the creative act and its potential to transform, engage, and heal people around the world. Having been raised in a traveling family of internationally acclaimed puppeteers, she has spent her in dialogue with artistic voices of diverse cultures, heritages, and perspectives. Shoshana has training and experience in many performance styles including dance, theater, and circus. She has performed across the country, co-produced the Puppets in the Green Mountains festival, and was recently a featured artist at the Ko Festival of Performance and at the Puppeteers of America National Puppetry Festival.