The selected performance is NOT available for sale.
Please Select Tickets
You have selected: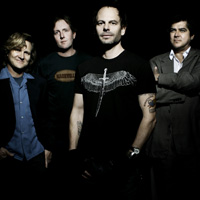 BCT Presents
2018 Gin Blossoms
Friday, February 16, 2018
at
8:00PM
Buskirk-Chumley Theater
114 E. Kirkwood Ave.
Gin Blossoms' indelible jangle-pop sound evolved during a time of hair bands and grunge music superstars. They qualified to perform at the South By Southwest Music Festival in Austin Texas in 1989; the same year College Music Journal dubbed them "The Best Unsigned Band In America." Their breakout record New Miserable Experience launched their rise to fame. This album kept the band on the charts for almost 3 years with singles "Hey Jealousy," "Allison Road," Until I Fall Away," "Mrs. Rita," and "Found Out About You." Crossover hits from New Miserable Experience played on 4 radio formats and, to date, have sold over 5 million records.

Those hits were followed by "Til I Hear It From You" from Congratulations I'm Sorry. The song rocketed to #1 and moved the Empire Records smash soundtrack to platinum status. This song was co-written with the great Marshall Crenshaw and Billboard described it as "the closest thing to a perfect pop song to hit radio in recent memory." Their next gem "Follow You Down" spent ten weeks in the top 10, and "As Long As It Matters" earned the band a Grammy nomination for "Best Performance by a Duo or Group" making Congratulations I'm Sorry another multi-platinum success.

Having dominated radio and MTV playlists for most of the 90s, Gin Blossoms took a brief turn-of-the-century hiatus, a provisional parting of the ways that singer Robin Wilson chalks up to "personal dissatisfaction and the mistaken impression that we could perform at that same level with another group." The brief break allowed guitarist Jesse Valenzuela and Wilson to re-energize via solo recordings, new combos, and production credits for an array of Arizona acts. However, Gin Blossoms' idiosyncratic magic proved impossible to ignore for long, and on New Year's Eve 2001 in their hometown of Tempe, the band reconvened and never looked back.

As they approach their third decade, Gin Blossoms remain a rare breed -rock 'n' roll lifers, destined to continue creating, crafting, and performing for audiences rapt by their glorious catalog of material. "We're entertaining and we have chops," says Wilson, "but it really comes down to the songs. The reason we're still here is that we have good songs. When young musicians ask me for advice, what's the best thing to do to further my career, I always say, 'Write good songs.' It always comes down to that."

To celebrate the 25th anniversary of the New Miserable Experience album, Gin Blossoms will perform the full album, in addition to other fan favorites.

Doors will open at 7:30 for this reserved seating performance. There will be no opening performer.