The selected performance is NOT available for sale.
Please Select Tickets
You have selected: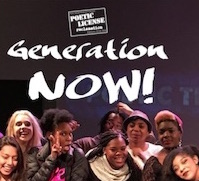 Generation NOW!
Poetic License 2018
Sunday, February 18, 2018
at
3:00PM
Wild Project
195 East 3rd Street
Between avenues A and B
Presented as a part of Poetic License 2018: Reclamation
See the full festival schedule
HERE
Poetic Theater Productions' 6th annual youth poetic theater showcase featuring artists from Urban Word NYC, Girl Be Heard, viBe Theater Experience, EarSay Youth Voices, and more.
viBe Theater Experience: Working to empower underserved teenage girls to write and perform original theater, video and music about the real-life issues they face daily. We provide a safe, creative space for under-served girls to express their voices, take on challenges and gain the self-confidence necessary to succeed personally, artistically and academically. viBe empowers girls through intensive, free programs, which engage and inspire them to write, create, publish, direct and perform personal and truthful collaborative theater and music.
Urban Word NYC: Championing the voices of New York City youth by providing platforms for critical literacy, youth development and leadership through free and uncensored writing, college prep and performance opportunities.
Girl Be Heard: A nonprofit theatre company that brings global issues affecting girls center stage by empowering young women to tell their stories. If a girl can change her own life, she can change the lives of girls everywhere. We envision a world in which every girl is valued and encouraged to be a leader and change maker.
EarSay Youth Voices: Transforming Trauma Into Art is an EarSay initiative, created and directed by Judith Sloan, born out of our partnership with the International High School at LaGuardia Community College where many teenagers have emigrated to the U.S. from war-zones and conflict-zones. The premise of this workshop is based on healing through artistic expression using a combination of music, movement, theatre and storytelling. This process helps release the stories and stressors that prevent people who have been traumatized by war, economic or natural disasters from moving forward. This program brings an understanding of confronting obstacles through artistic expression to communities that are poor, displaced, or don't have access to artistic training, serving approximately 450 students. The project grows out of our commitment to creating artistic works that evolve out of individual experience and community. In this case, the community is immigrant and refugee teenagers attending school in New York City. At a time of war, global tension, and polarization, our program encourages a depth of scholarship and storytelling that shapes the experience of the participants, giving them tools to make connections between cultures, shed light on the complexity and humanity of each individual, and deepen what it means or could mean to be part of a global community.