The selected performance is NOT available for sale.
Please Select Tickets
You have selected: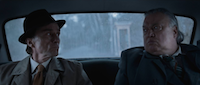 NARRATIVE SHORTS PROGRAM 1
Friday, June 1, 2018
at
6:45PM
Bow Tie Cinemas - Theater 2
2 Railroad Ave
Films are listed in the order that they appear on screen.
MAY DAY
Directors: Olivier Magis, Fedrik De Beul
In Thierry's living room, several people have gathered. None of them know each other but they are all there to try and fulfil the same dream. They want to find a job…and quickly. But we're in Brussels, so nothing goes quite as planned.

CALAMITY
Directors: Séverine De Streyker, Maxime Feyers
France meets her son's girlfriend for the first time and completely loses control.

THE PECULIAR ABILITIES OF MR. MAHLER
Director: Paul Philipp
East Germany, 1987: The special investigator Mahler is said to have paranormal abilities. The police assign him to solve the case of a 6-year-old Henry Kiefer, who has been missing for weeks. The boy's absence threatens issues with the West, and soon a discovery by Mr. Mahler brings something to light that makes this family tragedy especially political...

FALLING
Director: Ewen Wright
FALLING represents the world through the stories of three characters. It opens with Harold, a white man, having his legs examined by a doctor who ultimately assures him that, "Everything is fine." Yet, when Harold tries to stand, he falls. Confident that everything is fine, he continues onward, literally dragging himself forward. Meanwhile Karen is on a date with a man who suddenly accuses her of acting strange. When he asks what's bothering her, he doesn't accept her answers and instead "explains" that she's being crazy. Finally Michael, a young black man, is on his way home when a white man confronts him, yelling, "I'm not a racist!" and then pulls out a gun. As each character struggles to navigate the escalating madness around them, reality and the surreal blend, and their stories start to align, both literally and symbolically.

PARADES (FABULA RASA)
Director: Sarah Arnold
Faced with the injustices of this world, Margot has lost all hope in the future. Giving up on politics, she decides to entrust her fate to the Dardu, a legendary carp that supposedly predicts the future. But the lake's rules have changed : fishing is now forbidden.