The selected performance is NOT available for sale.
Please Select Tickets
You have selected: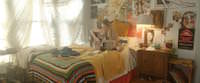 CONNECTICUT SHORTS PROGRAM 2
Sunday, June 3, 2018
at
11:00AM
Bow Tie Cinemas - Theater 2
2 Railroad Ave
Films are in the order that they appear on screen.
THE HAMMAMIS
Director: Molly Bareiss
This film takes an intimate look at the struggles of a Syrian refugee family and the new hope they've found after settling in the US, while touching on the contentious national dialogue surrounding the entrance of Syrian Refugees into the United States.

L.A. FADEAWAY
Director: Meg Sutton
Drew's a young female musician working at a local music venue in 1970s Los Angeles. When she books her idol, Marcie, a sultry blues singer, to come play at the venue, her expectation of what opportunities this will bring clash with her budding relationship with Marcie's boyfriend, Reid. She finds herself up against an industry of sellouts, heartbreak and disillusionment with what she initially admired about these successful musicians. Drew has to find the confidence to pursue her aspirations on her own and prove that talent speaks louder than noise.

NOTES FROM DUNBLANE: LESSONS FROM A SCHOOL SHOOTING
Director: Kim A. Snyder
Following the critically acclaimed 'Newtown' documentary, this short film depicts Father Bob Weiss, who in the days following the Sandy Hook Massacre that took the lives of 26 children and teachers on December 14, 2012, was tasked with the burial of 8 of those children. In the throes of profound PTSD, he receives a letter from Father Basil O'Sullivan in Dunblane, Scotland where, in 1996 sixteen school children were gunned down at the hands of an unhinged lone gunman. In the ensuing months, the two priests forge a bond across the Atlantic through a series of letters sharing experiences of trauma and recovery.

UZMA THE GREATEST
Director: Christopher Hawthorne
After a heated argument with her husband, a Middle Eastern woman ventures into New York City to replace her broken television.

CATS CRADLE
Director: Jonathan Napolitano
Shortly after retiring, Bruce and Terry Jenkins of Lutz, FL, transformed their 1920s farmhouse into a hospice and senior living facility for cats.

A TRAIN TO ROCKAWAY
Directors: William Michals, Carlos Rojas
This intimate film gives a glimpse into the daily routine of Calvin Siebert, a highly independent New York artist. Calvin has been commuting from his rent-controlled studio in Chelsea to the beaches of Rockaway, Queens since the 1980s to build impressive modern, brutalist-inspired sandcastles. At the end of each day, Calvin walks away from the work, forfeiting it to the whims of the waves, seagulls or the random wandering child. His work has been featured on the CBS Evening News, The BBC, The New York Times, The Financial Times, and many other venues around the world.