The selected performance is NOT available for sale.
Please Select Tickets
You have selected: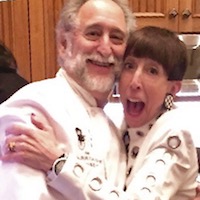 July 10-July 22
Sizzling Summer Sounds 2018
Sizzling Soiree Kick Off!
Tuesday, July 10, 2018
at
7:30PM
Janos Downtown Kitchen/Carriage House
125 S. Arizona Ave
1400 North First avenue
Those having dinner get reserved seating. Please call Downtown Kitchen (520)623-7
The Invisible Theatre presents its eagerly anticipated summer cabaret series, Sizzling Summer Sounds - two weeks of musical magic from July 10 (Gala Opening Night!) – July 22, 2018 at JANOS DOWNTOWN KITCHEN/CARRIAGE HOUSE produced and directed by Susan Claassen. Audiences will be treated to world class entertainment in a world class setting with award winning world class dining! The Carriage House will be transformed into an elegant and cosmopolitan cabaret showroom! The talent gracing our stage and being showcased is extraordinary! Where else can you see seven different shows in two weeks? Our stellar lineup includes out of town guest artists Steve Ross and Ann Hampton Callaway plus an array of Tucson favorites. Why go to New York or Los Angeles this summer when the best is coming to Tucson?! GENERAL ADMISSION: Doors open @ 6:45
IN HONOR OF IT's 48th ANNIVERSARY SEASON! Included in the Ticket Price: - 1 Glass of Champagne - Fabulous and Fun Finger Food - World Class Entertainment An extraordinary sampler of Janos' culinary treats and upcoming cabaret shows! Susan Claassen ("Suz") and Janos will host this not-to-be-missed evening of musical magic and delicious delights in our new "Downtown Digs"! Join our "Sizzling 2018 Ensemble" of world-class artists living and thriving in Tucson: Rob Boone, John Bucchino, Katherine Byrnes, Armen Dirtadian, Julie Anne, Daniel "Sly" Sliptsky, Christine Vivona, and Jeffrey Haskell will treat you to a once-in-a-lifetime evening! Each will perform a few tunes and have a "Shmooz with Suz"! This is an up close and personal opportunity to meet the artists and experience their magnificent musical magic!! Help us toast our new partnership and have a "delicious, delightful and delovely" downtown evening!