The selected performance is NOT available for sale.
Please Select Tickets
You have selected: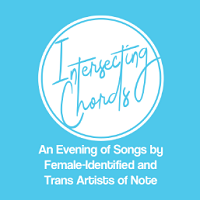 2018 New York Musical Festival
2018 - Intersecting Chords
Monday, July 23, 2018
at
6:30PM
The Green Room 42
570 10th Avenue
(between 41st and 42nd Streets)
Run time: 1hr 30 min
no intermission
Join us for our concert series that celebrates female, queer, and trans artists who are changing the landscape of musical theater. Featuring dynamic sounds and incredible performers, this concert has become such a staple of the Festival, that we've decided to do two separate line-ups to showcase even more talent this year!
INTERSECTING CHORDS
Directed by Shelley Butler
Music Directed by Kristen Lee Rosenfeld
Line Produced by Maggie Snyder
Stage Managed by Katie Kavett
6:30 CONCERT LINE-UP
Performers include:
Marinda Anderson, Stasi Berezovskaya, Starr Busby, Marisa Clementi-Thomas, Tsebiyah Mishael Derry, Anna Ebbeson, Alaina Ferris, Danyel Fulton, Felipe Joglar, Emily Kaczmarek, Lacy Rose, Amanda Savan, Jessie Shelton, Shayna Small, Natalie Walker, Andreas Wyder, Esco Jouley, Allison Linker, Jon Viktor Corpuz, Melissa Li, Bre Jackson, Janelle McDermoth, Janet Noh, Troy Anthony Burton, Jesse Carrey-Beaver, Makayla Benedict, and Chance Byrd.
With songs by:
Preston Allen, Britt Bonney, Kirsten Childs, Heather Christian, Carmel Dean, Anna K. Jacobs, Sukari Jones & Troy Anthony, Melissa Li & Kit Yan, Shakina Nayfack, Janet Noh, Jeanna Philips, Zoe Sarnak, Rona Siddiqui, and Ellen Winter.
9:30 CONCERT LINE-UP
Performers include:
Julie Abueva , Simone Allen, Izzy Castaldi, Ariana DeBose, Emily Gardner Xu Hall, Laurel Harris, Lauren Marcus, Hana Slevin, Lesli Margherita, Samantha Massell, Helen Park, Sarah Beth Pfeifer, Ed Rosini, Jason Weisinger, Jordan Tyson, Sylver Wallace, Victoria Rigby, Lauren Pritchard, Kuhoo Verma, Sarah Bockel, and Ashley Perez Flanagan
With songs by:
Simone Allen, Abigail Nessen & Shaun Bengson (The Bengsons), Ty Defoe & Tidtaya Sinutoke, Kate Douglas, Emily Gardner Xu Hall, Jenny Giering, Amanda Green, Jacob Jarrett, Dana Levinson, Lauren Marcus, Marisa Michaelson, Helen Park, Lauren Pritchard, Jean Rohe, and Shaina TaubNYMF Pass - The best way to see the Fest. With a NYMF Pass, you can get into the theater before individual ticket holders. Passes also offer the exclusive ability to book tickets before they go on sale to the public. Visit www.nymf.org/tickets.