The selected performance is NOT available for sale.
Please Select Tickets
You have selected: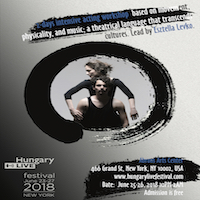 The Hungary Live Festival Presents:
INTENSIVE ACTING WORKSHOP
Faciliated by Esztella Levko
Tuesday, June 26, 2018
at
10:00AM
Abrons Arts Center, Underground Theater
466 Grand Street
The Underground Theater
F/M to Delancey/Essex; B/D to Grand St.; M14A to Pitt St.
The 2-day intensive workshop offers participants the opportunity to learn about a type of theatrical method in which the body is a dynamic, instinctive and honest tool. Its essence is to develop body- consciousness, non-verbal stage expression tools, and stage presence. In addition to physical, rhythm, and team building exercises, live music improvisation are an important part of the work. Through the various physical exercises a kind of openness and sensitivity develops within the actor to the physical expression of creative spiritual impulses. The goal is to make our bodies and our movements the number one expression tool in the work, through which we form thoughts, emotions, and relations with our partners. As an actor and teacher, I find it important that I involve the young people interested in theater in the creative work within the framework of an open workshop. I believe that participating in workshops is the most direct form of artistic interaction. Methods applied and taught by me are based on movement, physicality, and music; a kind of theatrical language that transcends cultures. The method I use is the set of experiences and impulses that have shaped my work, both as an actor and a trainer. A significant part of these are the techniques employed by W. Staniewski (OPT Gardzienice leader) and J. Grotowski. The work is challenging physically, emotionally, and mentally, while it stimulates an intuitive and radical search that is different from the text-based acting applied in classical theater and from dance theatre. This is a form of theatre approach in which gestures, impulses, and live music form a whole. About the Facilitator: Esztella Levko received a BA degree in European Theater Arts from Rose Bruford College, London, studied in Moscow at the Gerasimov Institute of Cinematography (ВГИК). She has worked with several European theater companies since 2008. The content of her multidisciplinary work experience has ranged greatly and encompasses a broad spectrum. For instance, she has been working with the Polish avant- garde theater company OPT Gardzienice. She has played in the production of William Shakespeare's Henry the V. directed by Pippo Delbono (Italy), worked with Compagnie Philippe Genty (France), as well as ViaNegativa (Slovenia.) She played in the movie Locked In, shot in Scotland. The film was featured in several festivals such as LA Shorts and Sacramento International Film Festival. Besides her professional career she is a PhD student at Eötvös Loránd University. In recent years, she has led workshops in several cities in Hungary, Slovakia, Poland, and Japan. This program is presented as part of the Hungary Live Festival
(http://hungarylivefestival.com)
.