The selected performance is NOT available for sale.
Please Select Tickets
You have selected: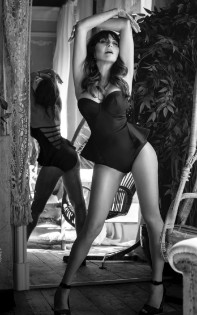 Frances Ruffelle
LIVE(s) IN NEW YORK
Saturday, September 29, 2018
at
7:00PM
The Green Room 42
570 Tenth Ave
4th Floor inside YOTEL
42nd Street & Tenth Avenue
1,2,3,A,C,E,N,Q,R,S
No Food or Beverage Minimum -- Full Food & Beverage Service (click to see menu) Have a question? The answers are here
2019 Bistro Award Winning Show
Best Major Engagement
'Frances Ruffelle LIVE(S) in New York' is "fun, reckless and wild"
Ruffelle turns cabaret upside down and "crushes it under her high heels" to create a refreshing new form of entertainment. In this award winning, whip-smart show, Frances and her crazy hot band expose the trials and tribulations of love, loss and adventures from Paris to New York. Expect a French flavor, plenty of gauloises and a good claret. Frances originated the iconic role of Eponine in the original cast of Les Miserables in London and on Broadway. Her performance on the Grammy Award winning cast album(s) turned the song 'On My Own' into a classic throughout the world. The show is co-written by Frances Ruffelle and Gwyneth Herbert. Musical director- Jude Obermueller.
"An electrifying concoction of cabaret and theater -- touchingly Intimate story-telling from one of the great voices of the musical stage. I didn't want the evening to end." --ARMISTEAD MAUPIN
"Frances Ruffelle LIVEs in New York is one of the best shows I've ever seen, modern but timeless, a sensual coquette who will steal your heart." BETTY BUCKLEY
"I can think of no other cabaret experience as satisfying and surprising as Frances Ruffelle Live(S) in New York. Her emotional life, her vocal fearlessness and her spritely spirit will infect your heart and you won't want it to end. I can't wait to go back." MICHAEL URIE
"Everything deeply satisfying and thrilling in the theatre - smart, funny, moving, incredibly surprising, wildly creative, generous, sexy and joyful! The guests are fabulous, the band is fantastic! I loved loved loved the evening!" BEBE NEUWIRTH
"Fun, reckless, and WILD." PATTI LUPONE
"A brilliant, high voltage performance" SALMAN RUSHDIE
"Frances never ceases to surprise and amaze me with the ways she reinvents herself, finding new levels of expression and excellence, always with total commitment and her signature sensual passion. I cannot wait to see what she does next." ALAN CUMMING
"There are fascinating echoes of Garland, Piaf and Lenya, and yet Frances Ruffelle manages to be a free spirited and an utterly contemporary original" CHARLES BUSCH
"Frances Ruffelle performs with grace and fire, subtlety and extravagance, delicacy and excitement – sometimes all at once" TIM RICE
"The superbly intoxicating Frances Ruffelle. This is seriously the best show I have seen all season, bar none!" The Times Square Chronicles.
"The best live performance you're likely to see for quite some time" Manhattan Digest
"With this biography in song, Frances Ruffelle fills the room with love, loss and laughter. It's part Piaf, part Marianne Faithfull, and all excellent. " JOE LEVY, Rolling Stone
"Ruffelle doesn't just use the space she crushes it under her high heels" -MARTIN GRAY- The Scotsman***** The Edinburgh Festival
"Totally lopping –the –top off conventional cabaret concert conventions, Broadway star and musical artist Frances Ruffelle presented a radically deconstructed, immersive and jazz-infused 'tone poem' to life and love" DAVID FRISCIC DCArts
"Frances Ruffelle's voice sounds like diamond dust: just so pretty and so gritty that you could listen to it sparkle roughly for hours." PENELOPE THOMAS Bistro Awards
"Theater's iconic Frances Ruffelle has gifted us with a whip-smart evening of pure entertainment. " GRACE TRESTON Theater Pizzazz
"Refreshingly textured and bracing turn by a woman who should be allowed to play any concert hall or Broadway stage she likes." MICHAEL MUSTO
"There are great and strong voices, big or beautiful voices, but very rarely, there is what can only be described as a magic voice. Frances is one of these rare ones, and the magic seems to lie in the contradiction, she is youthful and wise, vibrant and sad, spontaneous and skilled. Hearing is believing." TREVOR NUNN