The selected performance is NOT available for sale.
Please Select Tickets
You have selected: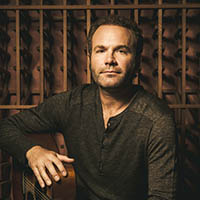 BCT Presents
2018 Five for Fighting
With String Quartet
Saturday, September 22, 2018
at
8:00PM
Buskirk-Chumley Theater
114 E. Kirkwood Ave.
Never has the phrase "he shoots, he scores" been more applicable than when introducing rabid hockey fan and chart-topping singer/songwriter John Ondrasik. The Los Angeles native, who goes by Five for Fighting (a five-minute penalty for on-the-ice fist-a-cuffs), burst on the scene some 15 years ago with his Grammy Award-nominated hit "Superman (It's Not Easy)," and has been a mainstay on mainstream radio ever since. While he doesn't wear tights and fight crime as his breakthrough track "Superman" suggests, his songs could bring any maniacal villain to their knees (and tears) with his poignantly sharp lyrics that cut deeper than a Ginsu knife.

Ondrasik signed his first record deal in 1997 with Message For Albert, but it was his follow-up album American Town that really took flight. The aforementioned "Superman (It's Not Easy)" went Platinum (as did the album) and was #1 on the Adult Top 40 chart. The song actually hit the airwaves and reached #1 the same week his daughter Olivia was born. Adding more fuel to the emotional fire, the mega-hit served as sort of an unofficial anthem following the 9/11 attacks on American soil. Naturally, he performed it at The Concert For New York City.

In his career, Ondrasik has sold over 2.5 million albums including 2004's Battle for Everything, which spawned the 2X platinum "100 Years," a song that continues to melt hearts and provide all ages with an instant case of nostalgia. Other hits have included "The Riddle," "World," "Chances," and "What If." His music has been featured in 350 films, TV shows, and advertisements, ranging from the The Blind Side to Hawaii Five-O. He has also written tunes for everyone from Josh Groban to The Backstreet Boys.

Yet, there's more to Ondrasik than the music and it's far more important to him and countless others. "Music is the great healer as well as being a unique vehicle in raising awareness and funds for important causes," he explains. Ondrasik has given away a million copies of a five-volume compilation album (featuring himself and other artists) he created for United States troops. He has also performed regularly for the USO.

Additionally, www.whatkindofworlddoyouwant.com was created off of his song "World," in which fans uploaded videos showing their interpretations of a better world. That initiative raised more than $250,000 for five designated charities: Augie's Quest, Autism Speaks, Fisher House Foundation, Save the Children, and Operation Homefront.

Ondrasik has been a featured speaker from TED Talks to the Salk Institute. He's also presented at various private and corporate events, graced The Kennedy Center stage, performed for world leaders and presidents, and contributed a special performance for NASA to commemorate the conclusion of the Space Shuttle Mission.

When not writing killer tunes, Ondrasik is putting pen to paper for his other passion: sports. The avid Stanley Cup Champion Los Angeles Kings fan has been a sports commentator for the Kings and outlets such as SI.com, as well as a guest on everything from Jim Rome to ESPN SportsCenter, where he was the first musical act to appear and perform.

"I recognize the immature shallowness of the adult sports fan obsession, but I've always had it. Lakers as a kid, UCLA, Kings etc. ... Many folks use music as their escape, I imagine sports as mine. Writing is a kick as I've always had a fantasy to be a sports reporter/writer," he says gleefully.

All the while he's making new music. Ondrasik's "What If" hit the Hot AC charts and was chosen by Sir Richard Branson as the theme song for his non-profit Virgin Unite. And his most recent song "All for One" was penned for the 100th episode of Hawaii Five-O. Ondrasik is currently working on the follow-up to his sixth album, Bookmarks.

Looking ahead while looking back, the one-man Fighting army, said, "I have been blessed to have loving and supportive parents, an amazing wife and partner, and two great kids. Family is crucial to any career, keeps the ups and downs, down and up."

John Ondrasik, as Five for Fighting, will perform with a string quartet at the Buskirk-Chumley Theater.

Doors will open at 7:30 for this reserved seating show. There will be no opening performer.