The selected performance is NOT available for sale.
Please Select Tickets
You have selected: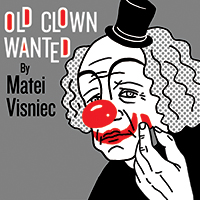 Odyssey Theatre presents
OLD CLOWN WANTED
Friday, September 28, 2018
at
8:00PM
Odyssey Theatre Ensemble
2055 S. Sepulveda Blvd.
Just north of Olympic Blvd. on the West side of the street.
0.5mi. north of the Expo/Sepulveda exit of the Metro Rail
NO LATE SEATING.
NO INTERMISSION.
RUN TIME: 95 min.

WEST COAST PREMIERE.
Written by Matei Visneic
New translation from the French by Jeremy Lawrence.
Directed by Florinel Fatulescu

Inspired by Fellini's "The Clowns" this homage to Beckett and Ionesco is a chilling and compelling charade of a trio of old circus clowns competing for a job.

Theater and circus arts are intertwined in an absurdist, cynical, tender and very funny look at aging. Three elderly men arrive with suitcases in a windowless room. Three out-of-fashion clowns who bump into one another at an audition. They are old, out of fashion and desperately hoping they'll be chosen as it's clearly their last chance. They have answered an advertisement stating "Small Part for an Old Clown". When no one arrives to interview them they start performing their old routines. Who is the best actor?

The scene opens on an announcement of auditions for an Old Clown posted on a door. Filippo and Niccolo arrive first, and there is much tension between them, for there is only one opening to be filled. Over time, however, the two realize that they trained together and were once close as brothers. Their camaraderie only carries them so far, however, before competition for the job takes over again. Now they are joined by Peppino, whom they are delighted to recognize as their old teacher and mentor. But again, joyful reunion is spoiled by the tensions inherent in their desperate circumstances.

An approaching carnival sends the trio into reverie and each begins to perform his best tricks, the ones he is sure will land him the clown job. Then Peppino perfectly executes a cruel joke. In gleeful triumph, he begins to mock the pair with unrelenting laughter, setting unexpected forces in motion.