The selected performance is NOT available for sale.
Please Select Tickets
You have selected: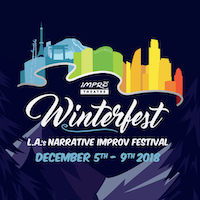 Winterfest 2018 presents
Punching Up Workshop
with Chris Wells
Sunday, December 9, 2018
at
10:30AM
Impro Studio
1727 N. Vermont Ave
Limited availability!
A way to proactively exploring humor about and with minorities and ethnic groups with your fellow improvisors before it comes up in a show.

Everyone has a different sense of humor, but dealing with stereotypes can be a touchy issue for any improv troupe. How do we develop a common philosophy that isn't based on presumptions before the issues come up during a show? And how do we keep it funny? More an exploration than a lecture, we'll approach the subject through activities, scenes, and discussion. "Punching Up" is a term used to describe using satire against the powerful in society, as opposed to "punching down", which is mocking those in a weaker position in society. What sort of comedy do we want to do? And how can we walk the line and represent all kinds of people in our work in the best way?