The selected performance is NOT available for sale.
Please Select Tickets
You have selected: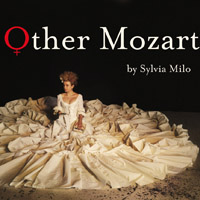 The Other Mozart (2019)
Performed by Sylvia Milo OR Paulie Rojas OR Sofi Lambert
Saturday, January 5, 2019
at
2:30PM
The Players Theatre
115 MacDougal Street
Between West 3rd and Bleecker Streets
Main Stage
A C E B D F & M trains to West 4th Street. Exit at West 3rd and walk one block East to Macdougal Street.
The theatre and restrooms are not handicapped accessible
**Premium Tickets include: Reserved Premium Seats, A glass of wine and a signed program. Premium tix are $65 The Other Mozart: the forgotten story of Mozart's genius sister THE OTHER MOZART is an award-winning play telling the true, forgotten story of Nannerl Mozart, the sister of Amadeus - a prodigy, keyboard virtuoso and composer, who performed throughout Europe with her brother to equal acclaim, but her work and her story faded away, lost to history. ''Strikingly beautiful'' - New York Times ''A gem of a show'.' - The Stage (LONDON) Written and first performed by Sylvia Milo, THE OTHER MOZART had an Off-Broadway run in NYC at HERE Arts, in London at St. James Theater, in Munich at the Pasinger Fabrik and was presented in Salzburg at the invitation of the Mozarteum Foundation (inside the Mozarts' Wohnhaus apartment) and in Vienna at the Mozarthaus Vienna (Wolfgang's Domgasse home). The monodrama continues being presented internationally, with with over 250 performances to date. Performed by Sylvia Milo (on Sunday), Sofi Lambert (Saturday matinee) and Paulie Rojas (Friday and Saturday nights and Monday matinee). Directed by Isaac Byrne, the monodrama is set in a stunning 18-foot dress created to fill and spill over the entire stage. THE OTHER MOZART is based on facts, stories and lines pulled directly from the Mozart family's humorous and heartbreaking letters. Along with music composed by her famous brother and Marianna Martines (a female composer who inspired Nannerl), original music was written for the play by Nathan Davis and Phyllis Chen (of Lincoln Center's Mostly Mozart Festival, BAM, and the International Contemporary Ensemble) for the instruments Nannerl knew intimately, such as clavichords, music boxes, and bells, as well as teacups, fans, and other ordinary objects that might have captured her imagination. With the opulent beauty of the dress, the sweet smell of perfume, and the clouds of dusting powder rising from the stage, THE OTHER MOZART is a multi-sensual experience that transports the audience into a world of outsized beauty and delight -- but also of overwhelming restrictions and prejudice, where, this other Mozart at last tells her story. DRAMA DESK and Off-Broadway Alliance Award nominations New York Innovative Theatre Awards: Outstanding Solo Performance, Outstanding Original Music Running time: 80 minutes with no intermission. NOTE: THERE IS NO LATE SEATING PERMITTED