The selected performance is NOT available for sale.
Please Select Tickets
You have selected: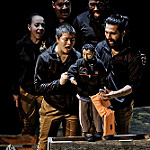 Puppets at Night
Babylon: Journeys of Refugees
by Sandglass Theater
Friday, January 25, 2019
at
8:00PM
The Modern Theatre, Suffolk University
525 Washington St
Recommended for adults and teens
Member tickets are only $20.00-$40.00! To get your discounts, login or become a member here!
El Salvador. Burundi. Syria. Afghanistan.
Vermont's acclaimed Sandglass Theater honors the stories of New England's refugees with skillful puppetry, scrolling artwork, and exquisite song.
BABYLON: an ancient city in what is now Iraq. Its ruins lie 59 miles southwest of Baghdad. This fallen mythic civilization becomes, for us, a metaphor for the destruction and destabilization that is leading much of the world into a refugee crisis of mythic proportion.
SANDGLASS THEATER's new production is a response to this crisis. Working with the Vermont Refugee Resettlement Program, Sandglass Theater looked at the relationship of refugees to their homelands, lost and new. Sandglass artists interviewed resettled refugees in order to gain first hand insight into their plight, trauma, and the challenges of resettlement. This is a vital conversation in all communities, whether they are directly impacted by newly resettled refugees or not.
Using puppets and moving panoramic scrolls, Sandglass tells the refugees' stories in original four-part choral songs. The artists work with simple means, not much more than someone could carry with them as they flee. In Babylon, the blending of actual testimony with unreal figures gives audiences a startlingly new perspective into how we can respond to the enormity of this crisis.
ABOUT THE PERFORMERS:

The Ensemble:
Shoshana Bass, Keila K. Ching, Kalob Martinez, Divyamaan Sahoo, Alan White
Sandglass Theater is an internationally known theater company specializing in combining puppets with music, actors and visual imagery. Since 1982, the company's productions have toured 24 countries, performing in theaters, festivals and cultural institutions and winning numerous international prizes. Sandglass Theater produces works for both adult audiences and young audiences—two repertoires that tour separately and together. Sandglass also performs and teaches in its own 60-seat renovated barn theater in Putney, Vermont. Sandglass Theater is available for workshops and residencies and teaches a 2-week intensive training program each summer. Learn more at
sandglasstheater.org