The selected performance is NOT available for sale.
Please Select Tickets
You have selected: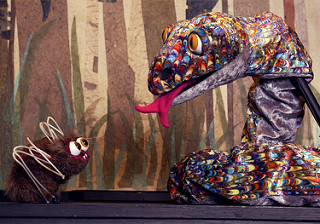 February Vacation Week!
Trickster Tales
by Barefoot Puppets
Saturday, February 23, 2019
at
1:00PM
Puppet Showplace Theater
32 Station Street
Member tickets are only $8.00! To get your discounts, login or become a member here!
Show Description:
Can a spider defeat an elephant at tug-of-war? Overpower a python? Capture a cloud of hornets? With Anansi the Spider, world famous trickster, all things are possible...if you only have a plan! This show brings traditional stories from West Africa to life with beautifully expressive rod puppets, colorful scenery, original music, and fun special effects. It's a high-energy show with lots of laughs!
Rod puppets. Recommended for everyone ages 4 and up.
About the Performer:
Having spent most of her early childhood barefoot in Hawaii, it only seemed natural that Heidi Rugg would name her company Barefoot Puppet Theatre. Performing barefoot is very fun - but it's also very useful for operating the foot pedal sound system her husband engineered. Barefoot Puppet Theatre began miles away from Hawaii, though, in Richmond, Virginia. Heidi founded the company in 1997 after apprenticing as a puppet builder with Handemonium Puppets in Washington, D.C. In 2001, with a growing touring schedule and a growing family, her husband Sam Rugg joined the company to help with building stages, managing accounts, and handling the technical side of lighting and sound. For more information, please visit www.barefootpuppets.com.