The selected performance is NOT available for sale.
Please Select Tickets
You have selected: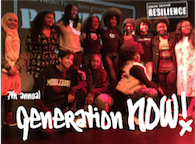 Generation NOW! 2019
Poetic License 2019
Sunday, March 17, 2019
at
3:00PM
Wild Project
195 East 3rd Street
Between avenues A and B
The 7th annual Generation NOW! will feature youth from arts organizations around NYC and across the country. These organizations provide youth with spaces of empowerment through engaging with poetic performance. This showcase seeks to amplify the voices of youth as they navigate their relationship with various communities and reckon with the realities of a politically turbulent world. In doing so, these performances vocalize a spirit of youth collaboration that rebells against structures that render youth voiceless in everyday life.

This year's Generation NOW! will include performances from:

Urban Word NYC Championing the voices of New York City youth by providing platforms for critical literacy, youth development and leadership through free and uncensored writing, college prep and performance opportunities.

Girl Be Heard A nonprofit theatre company that brings global issues affecting girls center stage by empowering young women to tell their stories. If a girl can change her own life, she can change the lives of girls everywhere. We envision a world in which every girl is valued and encouraged to be a leader and change maker.

viBe Theater Experience Working to empower underserved teenage girls to write and perform original theater, video and music about the real-life issues they face daily. We provide a safe, creative space for under-served girls to express their voices, take on challenges and gain the self-confidence necessary to succeed personally, artistically and academically. viBe empowers girls through intensive, free programs, which engage and inspire them to write, create, publish, direct and perform personal and truthful collaborative theater and music.

Girls Write Now mentors underserved high school girls from throughout New York City's five boroughs — over 90% high need and 95% girls of color — who must rise above the race and income-based inequalities of the city's public school system and the nation's workforce. Through one-to-one mentoring with professional women writers and media makers, writing and technology workshops, and leadership, college prep, and professional development opportunities, we inspire women to share their craft and empower girls to find their voices and tell their stories. Learn more at girlswritenow.org, or across social media platforms @girlswritenow. Regina Fontanelli, Maryclare Chinedo, Laila Dola, Gianny Guzman, and Natalie Mojica will be representing Girls Write Now.

EarSay, Inc. Youth Voices is an artist driven non-profit arts organization dedicated to uncovering and portraying stories of the uncelebrated. Founded by Warren Lehrer and Judith Sloan in 1999, our projects bridge the divide between documentary and expressive forms in books, exhibitions, on stage, in sound & electronic media. They are committed to fostering understanding across cultures, generations, gender and class, through artistic productions and education. We bring our work to theatres, museums, schools, prisons, festivals and universities.

Youth United for Community Action's Revolutionary Arts Program Youth United for Community Action (YUCA), a grassroots community organization from East Palo Alto, California, that is created, led, and run by young people of color, majority from low-income communities, provides a safe space for young people to empower ourselves and work on environmental and social justice issues to establish positive systemic change through grassroots community organizing.

Developing Artists Theater Company is a non-profit dedicated to providing opportunities for underserved teens to reach their full potential through a practical application of the performing arts. They teach culturally and socioeconomically diverse students to proclaim themselves as Artists and Activists (ARTIVISTS), to find their place and their connection in their community, and to bring about positive social change through participation in the arts and to create a supportive young artist community through our innovative signature program such as REBEL VERSES Youth Arts Festival. Developing Artists bridges the disparity of arts education for students from underserved communities by providing youth between the ages of 13 through 19 who attend High Schools in New York metropolitan area the opportunities to study performing arts at the highest level. We impact students by creating a forum to navigate life's increasing challenges; to find their voice in dealing with issues like rage, fear or frustration; and channel that energy into self-expression and self-confidence. Over 95% of our students go on to graduate college.