The selected performance is NOT available for sale.
Please Select Tickets
You have selected: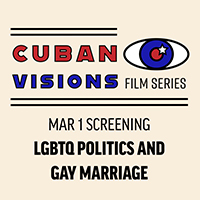 Full Spectrum Features and Americas Media Initiative present
Full Spectrum 2019: Cuban Visions 2: LGBTQ Politics and Gay Marriage
part of the Cuban Visions Film Series
Friday, March 1, 2019
at
7:00PM
Athenaeum Theatre
2936 N. Southport Ave.
Studio 3 (Third Floor)
Lincoln, Wellington and Southport
CTA Bus #9; Brown Line Wellington Stop
Not for all ages due to strong language. Performance lasts 2 hours 15 minutes with no intermission.
Cuban Visions Program 2: LGBTQ Politics and Gay Marriage
Short documentary films of Afro-Cuban Queer filmmaker, Damián Sainz (all films in Spanish with English subtitles):
Batería (Bateria)
/ 16 min. / 2017 / Documentary Short
The ruins of an ancient military fortress outside Havana have become a clandestine gay cruising spot. The old walls and rubble give shelter not only to Cuban homosexuals, but also to a culture of resistance and socialization.
Homenaje (Homage)
/ 22 min. / 2013 / Documentary Short
Two women and a dead man. One of them was his wife for 30 years and the other his lover and work colleague. The threesome lived in a tiny apartment in apparent harmony. Nevertheless, the man's death unleashes a silent battle between the two women to take control of the memory of the man who separates and connects them.
De Agua Dulce (From Fresh Water)
/ 15 min. / 2012 / Documentary Short
At sunset, Kinkin prepares to go fishing at the local river that passes through his town. Fishing is his night job but also his shelter. As night falls, the turbulence of the polluted river starts to reveal the deep connection between the water and the dark side of Kinkin's past.
Close Up
/ 22 min. / 2009 / Documentary Short
Filmed on a normal Saturday night at the park on G Street in the Vedado neighborhood, downtown Havana. The park is an oasis for different kinds of youth identities, a place where they can be whatever they want to be.
Post-screening presentation
: Director Damián Sainz will present his work together with Norge Espinosa, LGBTQ activist, playwright and author. The discussion will focus on gender identity, LGBTQ politics and the present situation concerning the constitutional reform on gay marriage in Cuba.
---
Purchase a 5-Film Series Package here!
Cuban Visions
is a new film series presented by Full Spectrum Features, the Americas Media Initiative, and Athenaeum Theatre Productions. Cuban Visions will present the work of Cuban filmmakers to Chicago audiences, providing a unique window into both early revolutionary and contemporary Cuban society.
The series will feature a diverse range of Cuban films including animation, short fiction, and documentaries, and cover issues such as racial inequity, the Cuban economy, Cuban internationalism, Afro-Cuban identity, women's rights, and more. Each of the six screenings will be followed by panel discussions, featuring Cuban filmmakers, producers, journalists, film critics and scholars as well as U.S.-based academics and community stakeholders. These thought-provoking and rarely seen Cuban films will challenge U.S. audience's long-held misconceptions about past and present Cuban reality.
Cuban Visions - Full Schedule:
Program 1: Racial Inequity and Class in a Changing Cuba
Program 2: LGBTQ Politics and Gay Marriage
Program 3: Economics 101
Program 4: Emerging Women Filmmakers
Program 5: Revolutionary Aspirations: Where Are We Now?
Program 6: The Personal is Political