The selected performance is NOT available for sale.
Please Select Tickets
You have selected: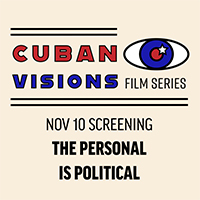 Full Spectrum Features, Americas Media Initiative, and ATP present
Full Spectrum 2019: Cuban Visions 6: The Personal is Political
part of the Cuban Visions Film Series
Sunday, November 10, 2019
at
2:00PM
Athenaeum Theatre
2936 N. Southport Ave.
Main Stage (Lobby level)
Lincoln, Wellington and Southport
CTA Bus #9; Brown Line Wellington Stop
Not for all ages due to strong language. Performance lasts 2 hours 15 minutes with no intermission.
Cuban Visions Program 6: The Personal is Political
La Música de las Esferas (Music of the Spheres)
/ Directed by Marcel Beltran / 82 min. / 2018 / Documentary Feature / Spanish with English subtitles
Beltrán's father Mauricio and mother Regina met in the 1980s. Equally committed to socialist ideals, they started a life together, even though Regina's father rejected Mauricio on account of his race. Beltrán draws out what was sacrificed as his parents forged into the austerity of the 1990s, simultaneously confronting the fraught politics of family and nation both.
Post-screening presentation
: Americas Media Initiative (AMI) Cuban artist and filmmaker Marcel Beltrán will host an intimate conversation following his nonfiction feature screening, which pays homage to his parents' enduring love while pondering his country's turbulent history.
---
Purchase a 5-Film Series Package here!
Cuban Visions
is a new film series presented by Full Spectrum Features, the Americas Media Initiative, and Athenaeum Theatre Productions. Cuban Visions will present the work of Cuban filmmakers to Chicago audiences, providing a unique window into both early revolutionary and contemporary Cuban society.
The series will feature a diverse range of Cuban films including animation, short fiction, and documentaries, and cover issues such as racial inequity, the Cuban economy, Cuban internationalism, Afro-Cuban identity, women's rights, and more. Each of the six screenings will be followed by panel discussions, featuring Cuban filmmakers, producers, journalists, film critics and scholars as well as U.S.-based academics and community stakeholders. These thought-provoking and rarely seen Cuban films will challenge U.S. audience's long-held misconceptions about past and present Cuban reality.
Cuban Visions - Full Schedule:
Program 1: Racial Inequity and Class in a Changing Cuba
Program 2: LGBTQ Politics and Gay Marriage
Program 3: Economics 101
Program 4: Emerging Women Filmmakers
Program 5: Revolutionary Aspirations: Where Are We Now?
Program 6: The Personal is Political