The selected performance is NOT available for sale.
Please Select Tickets
You have selected: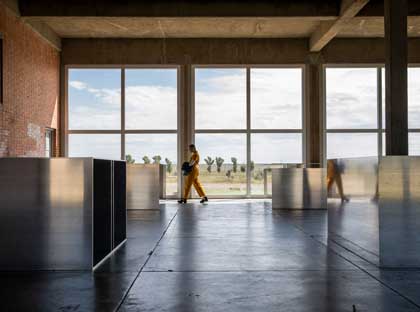 11:30am Selections Tour
Sunday, April 28, 2019
at
11:30AM
Chinati Foundation
1 Cavalry Row
11:30am - 2pm
CHINATI CLOSED UNTIL FURTHER NOTICE
Upon the recommendation of health officials regarding the spread of COVID-19, Chinati is currently closed to the public. We are accepting reservations for dates beginning April 8, 2020—however, please be advised that due to changing circumstances, we cannot guarantee that the museum will reopen by any specific date. If you choose to make a reservation, you will be notified in advance whether the museum will be open on the date you have selected.
Please check this website for further updates. If you have questions or require further information, please email aboyd@chinati.org. Thank you.
Please reserve in advance to guarantee tour admission. We do not issue paper tickets. Your name and reservation will automatically be added to our schedule.
The selections tour includes a guided viewing of the following artists of the Chinati Foundation: Donald Judd, John Chamberlain, Robert Irwin and Dan Flavin. Please plan on approximately 2 1/2 hours of viewing.
Some exhibitions on the guided tours are located off of Chinati's main grounds. Guests are required to provide their own transportation of off-site locations.
Chinati Foundation has a no photo policy on guided tours. No bags of any kind are permitted on tour, including purses. Please leave all personal items stored in your hotel or car or plan to check them in upon arrival.
Tours are free to Chinati members, children under age 17, and residents of Brewster, Jeff Davis and Presidio counties, but please make reservations for these tours.
For groups larger than six people, please contact Visitor Services at visitorservice@chinati.org to make reservations.
The standard Selections Tour includes walking distances of approximately 1.5 miles on our main grounds with some uneven terrain, narrow doorways, and stairs to some entrances to exhibition spaces. Tours also include off-site exhibition spaces in downtown Marfa more than 1 mile from the main museum grounds. Visitors are responsible for their own transportation to these off-site locations. Visitors with accessibility concerns are encouraged to please contact Visitor Services at visitorservice@chinati.org in advance of their visit.