The selected performance is NOT available for sale.
Please Select Tickets
You have selected: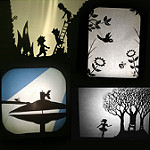 Adult Class (6 Sessions)
Shadow Puppet Production Lab
Instructor: Sarah Nolen, Resident Artist
Tuesday, April 23, 2019
at
6:30PM
Puppet Showplace Theater
32 Station Street
Recommended for ages 16+
6 sessions: April 23 - May 28
6:30 - 9:00 pm

Cost: $220
Register by April 1: $195
Puppets at Night Members save 15%. Login or become a member here!
Learn to build and perform your very own shadow puppet show in this rigorous and supportive class. We'll begin with hands-on exploration of different shadow styles, light sources, and design techniques, from traditional pressed puppets and screens, to acetate and overhead projectors, to hand-held light sources and body shadows. Using both scripting and visual storyboarding, we'll refine your story concept and prepare it for production within the timeline of the class. We will learn methods for crafting puppets from durable materials and will utilize mechanisms such as hinges, rivets, springs, and slides. We will learn how to bring shadow characters to life with movement, sound, and various manipulation techniques. We will create dynamic scenery and visual environments, and learn methods for effective scene transitions and backstage choreography. Participants will be invited to showcase their work in the Puppet Showplace Slam.
This is an advanced-level class: some foundational puppetry background or related artistic / theatrical experience is recommended. Participants will be expected to work on projects outside of class time. Cutting tools, practice screens, overhead projectors, sample lighting instruments, card stock, and demo materials will be provided by the instructor. We encourage participants to invest in equipment and materials that support your designs and make your show portable and performance-ready. The instructor will provide guidance on sourcing and supplies.