The selected performance is NOT available for sale.
Please Select Tickets
You have selected: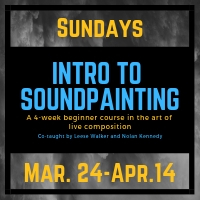 Learn to Soundpaint Series
Intro to Soundpainting
4-Week Advanced Course
Sunday, March 24, 2019
at
7:00PM
Gemini & Scorpio Loft
255 Douglass St
Upstairs
For musicians, actors, dancers, and all other performance artists!
Intro to Soundpainting
Sundays - 7:00pm-9:30pm
March 24 - April 14
$225

*Enroll before March 10th for a $50 Early Bird discount! Use the code "getstheworm" at checkout.*
Soundpainting is an exciting technique for expanding your skills as an improvising actor, musician, dancer, or any other performative discipline! This 4-week (10 hour) class will lay out the fundamentals in a fun and supportive environment.

Bring instruments and clothes to move in as this is an on-your-feet experience. Perfect for professional and amateur performers, alike. No Soundpainting experience necessary! Just an open mind! Ages 18 and up. Students will also recieve a copy of "Soundpainting Workbook 1" by Walter Thompson!

Soundpainting is a sign-language for live-composition. The language is comprised of over 1500 signs and allows a conductor/composer to sculpt a performance in real-time with improvising actors, musicians, dancers, visual artists and people from all walks of life – anyone can participate. The technique was created by composer Walter Thompson beginning in the 1970's for use with jazz musicians. It has evolved into a universal, multidisciplinary language that is practiced worldwide.
​For a more in-depth understanding of Soundpainting, please go to www.soundpainting.com
Co-teachers:
Leese Walker (Strike Anywhere Performance Ensemble)
and Nolan Kennedy (Letter of Marque Theater Co.)
*****************************

LEESE WALKER is the founder and Producing Artistic Director of NYC's Strike Anywhere Performance Ensemble. The company is comprised of jazz musicians, modern dancers and actors. She established the company in 1997 to create politically-charged, original works.Leese was the first actress to be soundpainted and was instrumental in helping inventor Walter Thompson to adapt the Soundpainting language for theater. Leese has been a core member of the Walter Thompson Orchestra since 1997 and is one of five certified multidisciplinary soundpainters in the United States.

NOLAN KENNEDY is an actor, musician, improviser, teaching artist, producer, and playwright. He is a co-founder and co-captain of Letter of Marque Theater Co., a core ensemble member of Strike Anywhere Performance Ensemble, and player in the Walter Thompson Orchestra. He is also a lead teacher and curriculum writer for Brooklyn Improv Training. Hailing from Chicago, IL, Nolan received his B.F.A. in Acting from Illinois Wesleyan University. He also studied at Gaiety School in Dublin, Ireland. His improv training includes I.O., ComedySportz Chicago, Improv Playhouse, and with improv ledgend, Keith Johnstone. Nolan is also one of the 5 certifed multidiciplinary Soundpainters in the U.S. ​