The selected performance is NOT available for sale.
Please Select Tickets
You have selected: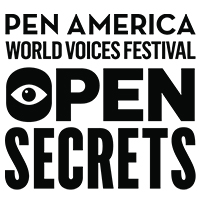 Orwell's China
Wednesday, May 8, 2019
at
7:00PM
SubCulture for PEN World Voices
45 Bleecker St
The world marvels at China's economic growth and technological innovation, yet barely hidden from sight is a darker reality. Daily life in China has begun to parallel and, in some cases, outstrip the chilling vision of George Orwell's 1984 (a book that cannot even be mentioned on much of China's social media). Dissident voices are banned from the internet, while minorities, foreigners, and political opponents can suffer imprisonment or worse. And a developing "social credit" system seeks to combine 24/7 surveillance with consumer data mining to rank citizens on their likelihood to offend. In this unique event, hear voices that have spoken against the 1984-style oppression of China's government. Exiled author Ma Jian's new novel China Dream skewers the absurdities of totalitarian power in a China that increasingly invades the private lives of its citizens, while author Leta Hong Fincher examines the transformative potential of feminist movements in China, as well as the brutal oppression that has been visited upon China's feminists. The discussion will be moderated by PEN World Voices Festival Director Chip Rolley.