The selected performance is NOT available for sale.
Please Select Tickets
You have selected: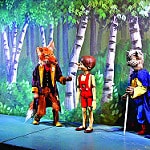 Stories in Bloom!
Pinocchio
by National Marionette Theatre
Monday, May 27, 2019
at
1:00PM
Puppet Showplace Theater
32 Station Street
Member tickets are only $8.00-10.00! To get your discounts, login or become a member here!
Show Description:
Carlo Collodi's epic about a puppet who wants to become a real boy is a classic example of storytelling at its best. National Marionette's adaptation is a faithful retelling of this childhood favorite, featuring beloved characters from the Blue Fairy to the enormous Whale. Follow Pinocchio as he goes on a series of adventures and discovers that only by being truthful, selfless, and kind to others will he realize his dream of becoming a real live boy.
Marionettes. Recommended for ages 5 and up.
About the Performers:
National Marionette Theatre is one of the oldest continually-running marionette companies in the United States. Founded in 1967 by artistic director David A. Syrotiak, this award-winning company has been entertaining audiences around the world with their extraordinary productions for over forty years. Notable performance venues have included the Smithsonian Museum, the Center for Puppetry Arts, and numerous international puppetry festivals. The company has been twice honored with the prestigious UNIMA award for excellence in puppetry. In 2014, founder David A. Syrotiak also received Puppet Showplace Theater's first-ever Paul Vincent Davis Award for excellence, mentorship, and service to the field.
David J. Syrotiak has been building and performing with the company since he was a boy. As the son of founder and artistic director David Syrotiak Sr., he has been around puppetry all his life. He has been involved in every NMT production from the planning stages to the performances with key roles in Aladdin, Pinocchio, Peter Pan, Sleeping Beauty, Beauty and the Beast, Peter and the Wolf, Hansel and Gretel, Ali Baba and the Forty Thieves, Rip Van Winkle, Sorcerer's Apprentice and Alice in Wonderland. Over the past thirty years and thousands of performances David has dedicated his life to keeping the tradition of marionette performance alive in the United States.
Mariana Syrotiak's career in puppetry started in Bucharest, Romania and has taken her all over the world. As a company member of the world-famous Tandarica puppet theatre she performed many diverse roles and played to appreciative audiences all over Eastern and Western Europe. She then joined National Marionette Theatre for two world tours. While currently the English and a Second Language program Director at Gannon University, she's delighted to be ''on the bridge'' again with National Marionette Theatre.
Stephen A. Syrotiak has been around puppetry his entire life. He is David's son. At six weeks old, he attended his first international puppetry festival in Charleville-Mezieres, France. Stephen has been working behind the scenes since his early teenage years and made his performing debut in the summer of 2015 for a tour of Aladdin and his Wonderful Lamp. Since then he has become an indispensable member of the company.