The selected performance is NOT available for sale.
Please Select Tickets
You have selected: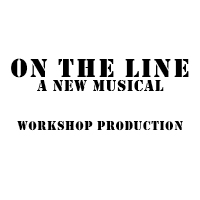 RCT's Shakesqueer Project Production
On The Line: A New Musical - Workshop Production
By Amy Burgess and Rachel Dean
Friday, January 24, 2020
at
7:30PM
Rubber City Theatre
243 Furnace St
Down the street from Northside District.
Parking located in the on the backside of the building, accessible parking is located just passed the railroad tracks.
Rubber City Workshop Production
It is May, 1945, and the G.S. Good Rubber Factory in Akron, OH, is in the throes of rubber production for World War II. With most of the men overseas, it is no time to be frail for the female workers as they navigate the new, harsh work environment of factory life, and discover the freedom and agency that come with it. In this adaptation of Shakespeare's A Midsummer Night's Dream, Helen, the factory forewoman, Billie, the factory machinist, Ellie, the factory owner's daughter, and Sandra, a female Naval Lieutenant turned filmmaker comprise a lovers' quartet on a collision course with their burgeoning feelings for each other and the uncertainty of a changing world. With the announcement of V-E Day, their newfound freedoms are in danger, and all four must decide how to chart their futures. Mix in Robert and Clarence (long-time partners and proprietors of the local Ritz Theatre longing for the old days of sumptuous revelry and passion), Buck (their mischievous assistant), Nick (the exceptionally handsome lead singer of the band "The 4 Fs"), and a mad-cap masked party in the woods, and the end of the war is sure to only be the beginning. This world premier musical re-imagining Shakespeare through the lives of LGBTQ+ characters is made possible through support from the John S. and James L. Knight Foundation, as part of its Knight Arts Challenge. The Knight Arts Challenge funds the best ideas for engaging and enriching Akron through the arts.