The selected performance is NOT available for sale.
Please Select Tickets
You have selected: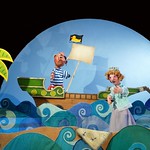 Summer Puppet Adventures
The Pirate, the Princess, and the Pea
by Crabgrass Puppet Theatre
Wednesday, July 10, 2019
at
1:00PM
Puppet Showplace Theater
32 Station Street
Member tickets are only $9.00! To get your discounts, login or become a member here!
Show Description:
Come along on a thrilling voyage chock full of sea monsters, shipwrecks, and mistaken pirate/princess identities. A pirate and a princess are on a treasure hunt, searching for the same clues. The princess stays one step ahead by tricking the pirate at every turn. But when the princess is in danger from a giant octopus, she quickly discovers the benefit of having a loyal crew! Featuring colorful scenery, multiple styles of puppetry, and original pirate songs, you won't want to miss the boat on this fun adventure tale!
Hand Puppets, Shadow Puppets. Recommended for everyone ages 4 and up. Continuous story; verbal; mostly silly with one suspenseful sea creature moment.
About the Performer:
Jamie Keithline and Bonny Hall formed Crabgrass Puppet Theatre in San Francisco in 1982 and have delighted audiences across the nation with their whimsical humor and puppetry ever since. Their performing venues have included the Detroit Institute of Art, the Smithsonian, Paper Mill Playhouse, Tribeca Performing Arts Center, and the Philadelphia Museum of Art. They have been awarded two Citations of Excellence from UNIMA-USA, the highest puppetry award in the United States, and in 2009, Bonny Hall was awarded a Design Commendation from the Arlyn Award Foundation. Since 2001, Jamie and Bonny have been living in Halifax, Vermont, a tiny town in the hills near Brattleboro, where they continue to create their award-winning productions.