The selected performance is NOT available for sale.
Please Select Tickets
You have selected: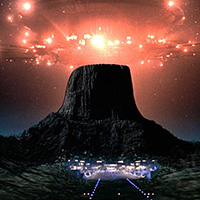 2019 Close Encounters of the Third Kind
Friday, August 9, 2019
at
7:30PM
Buskirk-Chumley Theater
114 E. Kirkwood Ave.
Cableman Roy Neary is one of several people who experience a close encounter of the first kind, witnessing UFOs flying through the night sky. He is subsequently haunted by a mountain-like image in his head and becomes obsessed with discovering what it represents, putting severe strain on his marriage. Meanwhile, government agents around the world have a close encounter of the second kind, discovering physical evidence of otherworldly visitors in the form of military vehicles that went missing decades ago suddenly appearing in the middle of nowhere. Roy and the agents both follow the clues they have been given to reach a site where they will have a close encounter of the third kind: contact.
Written and directed by Steven Spielberg, this film stars Richard Dreyfuss and Teri Garr.
Release Date: 1977
Run time: 2h 15m
MPAA rating: PG
Screening format: DCP, Digitally Remastered
This film is part of the
BCT's Summer Sci-Fi Series
. As with all films at the BCT, costumes are encouraged! Join us for all four films!
July 12 -
Back to the Future
(1985)
July 26 –
2001 A Space Odyssey
(1968)
August 9 –
Close Encounters of the Third Kind
(1977)
August 23 –
The Matrix
(1999)
(PS - Also check our full film screening
calendar
for screenings of
Star Wars 
Episodes I - VI!)
Doors open at 7pm for this general admission event.