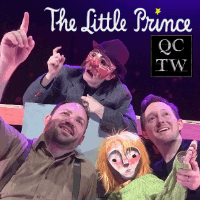 Quad-Cities Theatre Workshop
The Little Prince
Saturday, June 1, 2019
at
2:00 PM
Coralville Center for the Performing Arts
[map]
1301 5th Street
Coralville, IA 52241
Located in Plaza on 5th, at the corner of 5th St & 12th Ave

The QC Theatre Workshop's touring production of
The Little Prince
is a new play based on the beloved children's book by Antione de Saint Exupéry. Written by award winning playwright Aaron Randolph III (known most recently for
Broken
and
A Green River
) this adaptation includes masks, puppets, and original music. Fun for all ages, this family-friendly production runs just over one hour and explores what is truly important in life. "It is only with the heart that you can see clearly; what is essential is invisible to the eye."
Crashed in the desert of the Sahara, an aviator finds himself in the presence of a little Prince from another planet! He discovers the little prince has previously traveled to six different asteroids where he met eccentric characters like the king, the business man, and the lamplighter. Through the little prince, his rose, the fox, and the snake, the aviator learns important lessons about life and death and what makes relationships meaningful.
For more information, visit
QC Theatre Workshop.
Tickets to this event are non-refundable.