The selected performance is NOT available for sale.
Please Select Tickets
You have selected: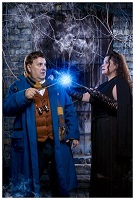 MRPAC Kids!
MRPAC Kids! The Fantastic Magic of Potter Show
Saturday, August 3, 2019
at
1:00PM
Marilyn Rodman Performing Arts Center
1 School St.
Magic and more with comedy and magic at Hogwarts, all rolled into one fun show!
It's the First Years orientation assembly at the castle and the headmaster has spared no expensive, to bring important wizards and witches from the Past Present and Future of the Academy to speak to the first year students. But by using Time Travel, they opened a door and He who must not be named, sends his own emissary to the assembly to try and change reality, so the Dark Side will win. See Newt and the Headmaster with Queen and Lily Evans Battle the Dark side for the future and past of the Wizarding World. With surprise Special guests. This show has been performed at Comic Con and "Potter" Festivals around the country and this is the first time, we have brought it to independent theaters. This is a real magic show that is themed to the wizarding world. Potter fans will love the attention to detail and references in the show. Newt will do magic with some Fantastic animals and the Headmaster will perform a ring ceremony and have students from the audience up to stage to practice magic. This show has been performed recently at the Boston Convention Center and the DCU Center in Worcester ma. www.magicofpotter.com Come dressed up as your favorite Potter or Fantastic Beast Character and perhaps you'll end up on our MRPAC stage! General admission tickets are $5. For more information go to www.orpheum.org or contact the MRPAC Box Office at 508-543-ARTS (2787) or boxoffice@orpheum.org for membership and group discounts. Produced by Magician Mark Pinksten. Mark Pinksten has been producing Pop Culture themed Comedy Show for Comic Cons for three years and general magic shows for 20 years. His main show, Magic and Pop Culture, has appeared at over 31 comic cons in 10 states, from small one day cons, to the giant Fan Expo Comic Con. His Doctor Who inspired show Magic of Who has played both the biggest Doctor Who cons in the East and many general comic cons.