The selected performance is NOT available for sale.
Please Select Tickets
You have selected: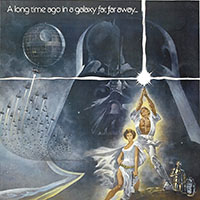 BCT Presents
2019 Star Wars: Episode IV A New Hope
Thursday, August 15, 2019
at
7:30PM
Buskirk-Chumley Theater
114 E. Kirkwood Ave.
Nineteen years after the formation of the Empire, Luke Skywalker is thrust into the struggle of the Rebel Alliance when he meets Obi-Wan Kenobi, who has lived for years in seclusion on the desert planet of Tatooine. Obi-Wan begins Luke's Jedi training as Luke joins him on a daring mission to rescue the beautiful Rebel leader Princess Leia from the clutches of the evil Empire.
Release date: 1977
Run time: 2 hrs 15 min
MPAA rating: PG
Screening format: DCP, special edition version
Doors will open at 7pm for this general admission event. As with all movie screenings at the BCT, costumes are encouraged. Lightsabers are welcome but please leave your blaster at home. Bring your action figures and small collectibles; we've got a mini photobooth just for them!
CLICK HERE FOR A CALENDAR OF ALL UPCOMING FILMS
WANT MORE THAN JUST A SOLO TICKET?
The Midi-chlorian Package
Episodes I - III for $21
The Nerf Herder Package
Episodes IV - VI for $21
The Gold Leader Package
Episodes I - VI for $36
The BCT screenings are sponsored by Union Board.
In addition to the Star Wars screenings at the Buskirk-Chumley Theater, 
IU Cinema
 will host a screening of Episodes IV, V, and VI on Saturday, August 24. See their website for times and ticket prices.