The selected performance is NOT available for sale.
Please Select Tickets
You have selected: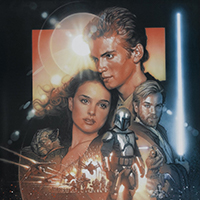 BCT Presents
2019 Star Wars: Episode II Attack of the Clones
Thursday, August 1, 2019
at
7:30PM
Buskirk-Chumley Theater
114 E. Kirkwood Ave.
Ten years after
The Phantom Menace
, the galaxy is on the brink of civil war. Under the leadership of a renegade Jedi named Count Dooku, thousands of planets threaten to secede from the Galactic Republic. When an assassination attempt is made on Senator Padmé Amidala, the former Queen of Naboo, twenty-year-old Jedi apprentice Anakin Skywalker is assigned to protect her. In the course of his mission, Anakin discovers his love for Padmé, and Obi-Wan Kenobi is drawn into the heart of the Separatist movement and the beginning of the Clone Wars.
Release date: 2002
Run time: 2 hrs 22 min
MPAA rating: PG
Screening format: DCP
Doors will open at 7pm for this general admission event. As with all movie screenings at the BCT, costumes are encouraged. Lightsabers are welcome but please leave your blaster at home. Bring your action figures and small collectibles; we've got a mini photobooth just for them!
CLICK HERE FOR A CALENDAR OF ALL UPCOMING FILMS
WANT MORE THAN JUST A SOLO TICKET?
The Midi-chlorian Package
Episodes I - III for $21
The Nerf Herder Package
Episodes IV - VI for $21
The Gold Leader Package
Episodes I - VI for $36
The BCT screenings are sponsored by Union Board.
In addition to the Star Wars screenings at the Buskirk-Chumley Theater, 
IU Cinema
 will host a screening of Episodes IV, V, and VI on Saturday, August 24. See their website for times and ticket prices.