The selected performance is NOT available for sale.
Please Select Tickets
You have selected: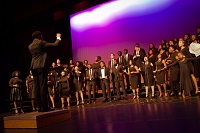 2019MOJA College of Charleston Gospel Choir
$15 General Admission | FREE for Students with Valid ID
Monday, September 30, 2019
at
7:00PM
Mt. Zion AME Church
5 Glebe St.
Doors at 6:30pm
About the Program:
This year the College of Charleston Gospel Choir will be featuring a vast repertoire of contemporary gospel music from the 1990's. From artists like Kirk Franklin, Donald Lawrence, Ricky Dillard, to choirs like the Mississippi Mass Choir, West Angeles C.O.G.I.C Mass Choir and many more; you will experience an eclectic variation of contemporary gospel music.
While many white musicians gravitated toward country, folk, and old-timey music to express their spirituality outside of traditional Christian hymns, Black Gospel music drew heavily upon the traditional spirituals that had been passed down from the days of slavery, picking up its more driving rhythmic emphasis from blues and early jazz. Composer and singer Thomas A. Dorsey crystallized the style in 1932 with his epochal "Take My Hand, Precious Lord," and went on to compose a great many songs that later became standards.
As the curtains of 1980 through the 1990's drew opened, there was a soothing melody found in Contemporary Gospel. This new Gospel gave us peace of mind. A peace of mind that continues to be the foundation of real happiness and that peace is the fruit of our love perfectly fulfilled in song / music. It provided great comfort in knowing that we will one day see Jesus. Contemporary Gospel is a development of our faculties and powers through a relationship with God. It reinforced the belief that God is the Master of our Faith and the Captain of our soul. This new style of music had its crossover into the world of entertainment through such stars as Ray Charles, Al Green, Aretha Franklin, The Edwin Hawkins Singers (O Happy Day), Andrea Crouch; (The Blood Will Never Lose its Power), which was composed by him when he was only thirteen years of age.
-Brenten Weeks, Director, College of Charleston Gospel Choir